I've been thinking about pet peeves – and thought I'd share some. I bet you have some you can share, also. Add yours in the comments section.
For me, my number one pet peeve is people who think that because I feed my dogs and my cat grocery store food I'm a bad pet parent. My pets have always eaten grocery store food. All my pets have. And, I want the world to know that all of my pets have lived long and happy lives. None have suffered unduly from eating grocery store food. Mind you, we do buy the higher end food. Not store brand.
It really astonishes me that people think pet food companies aren't interested in the health of your pet. Seriously? They would not be in business long, if that were true. I know that my pets are extremely healthy (my veterinarian will attest to that) and I trust the pet food companies. You don't have to. I'm not saying that. I'm saying… just because I do, doesn't make you better than me.
Second, I get annoyed at people who insist their dog is so gentle and kind and obedient, he would never attack another dog or a child. It could happen. Not necessarily without cause! Other dogs can get even a mild-mannered animal to snap – rightly so! And kids, don't get me started. Parents need a lesson in how to teach their kids to approach strange dogs. It's not fair that the dogs are held accountable when it's likely the 'human's' fault. But, honestly… just as we must teach our children to behave, we must teach our dogs – and be aware the circumstances could turn a gentle, easy going pet into a snarling beast. In the end, the dog suffers for our inability to protect him.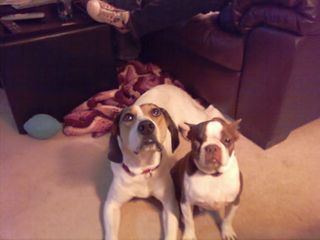 I saw a couple of other pet peeves from bloggers I know. Dr. Lorie Huston, who writes the Pet Health Care Gazette, says, her top pet peeve is, "Being addressed as 'the nurse' by people who assume that because I'm a woman, I cannot be a doctor…"
I love that our shelter back in Rochester, Lollypop Farm, has a help-line they call Pet Peeves. Here's their description:
You love your pet, and he's a treasured member of your family. You take him to the vet regularly, and he's healthy and fine. It's just that he's got this one little behavior that's driving you, or your family, or your neighbors, nuts! And it seems to be getting worse, not better. You've tried some solutions, maybe some worked a little, maybe not. Friends and family have no more advice, or maybe they're tired of hearing about it!
Help is available! The Humane Society now offers a Behavior Help Line to assist families with dog or cat concerns – part of our efforts to preserve the lifelong bonds between people and animals. Trained volunteers respond to phone calls with support, knowledge and guidance. If you have a question or concern about the behavior of your dog or cat, call 295-2999 and a volunteer will respond. You may also visit the Behavior Help Line page to find articles that might be of assistance.
This article from Ann Arbor written by Julia Levitt about pets really hits home to me, also. I totally agree with this point (which is relevant to my previous point about well-behaved dogs behaving badly sometimes):
Walking the Dog owner and dog walker Lisa Saul gets very frustrated when she is walking a dog belonging to a client and she encounters people walking their dogs off leash. The owners call out to her, "That's okay. my dog is friendly."
"Since they don't know my dog, the dog owner has no idea if the dog I am walking is friendly," Saul says. "And," she continues, "they also don't know how the two dogs will react when they meet each other."
Anyway, I bet I could find more but that's enough for today. I'm eager to hear yours. Do share!