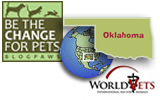 6/3/2013: FINAL UPDATE. Oklahoma has been hit hard this storm season. Our thoughts and hearts continue to stay with the families affected by the tornadoes. We are happy to announce that thanks to the generosity of the BlogPaws Community, their networks, some of our Sponsors: Spoiled Pup Boutique, Aikiou, Embrace Pet Insurance, K9 Carryall, and AAHA, plus our team members at Pet360, and World Vets, we have successfully raised a total of $9829! This money will be divided between Central Oklahoma Humane, OSU Animal Relief Fund and Pampered Pets supplies drive. World Vets is donating 100% of the funds received, including fees which usually take up a percentage of the donation amount. Every penny collected is being donated. Thank you to everyone who supported and shared the efforts to help the pets in need in Oklahoma. #Paws4OK! 
5/24/2013: Double WOW!! With your wonderful generosity and the BlogPaws and Pet360 matches, we've passed $5,000 in donations! Let's not lose the momentum as we all enjoy the holiday weekend. Please keep sharing and urge friends and family to take a moment to help the people and pets in OK.

5/22/2013 – #3: WOW! What an amazing community you are! I was about to put in this update that BlogPaws is going to match the first $1,000 of your donations and Pet360 is going to do the same. But when I checked the World Vets Paws 4 OK donation page, with dozens of individual donations, you've already hit $840!! Might as well just go add ours now, eh?
Don't stop sharing and inspiring others!

5/22/2013 – #2:


Our friends at AAHA (American Animal Hospital Association) are helping, too! They've pledged a cash donation and connected us with one of their member veterinarians, Dr. Brian Ledger of Pampered Pets Veterinary Clinic & Spa, who's volunteering to help coordinate the delivery of help from World Vets, Dr. V, and YOU! Please make whatever donation you can, then grab the badge code (far right >>) and share!
5/22/2013: BlogPaws sponsors FreeKibble and Halo stepping up to send 100% of today's Halo kibble to homeless dogs and cats in the OK disaster area. Just answer a fun trivia Q to help grow the total! Play at www.freekibblekat.com!
We're still gathering info and have been in touch with Dr. V and WorldVets about coordinating a Blogger Disaster Response Network effort to help the people and pets in OK, so we'll be updating as often as possible here. Meanwhile, if you haven't already joined, here's an intro and message from Dr. V about the ongoing initiative.
Watch for updates.