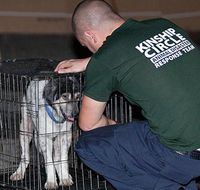 Head's up, pets and people. The following press release requires our attention. Share this and spread the word. Help is needed!
*All Photos: Kinship Circle Disaster Animal Response Team, Thailand Flood 2011 / Ione Lexie Cataldo
USA nonprofit Kinship Circle deploys overseas to save animals in Thailand's historical flood. 
Bangkok, Thailand — It might take Noah's Ark to save them all. Dogs bark from rooftops. Animals are submerged chest deep. The skin rots, if underwater too long. Others paddle toward any surface taller than the water. Clinging to a tiny refuge, their howls and cries punctuate the night.

Kinship Circle Disaster Animal Response Team (DART) works with Thai NGO Save Elephant Foundation and various local groups and volunteers to run an emergency shelter in southern Bangkok. Teams from the U.S. and Canada are in Thailand for several months to also help with field rescue, food-water drops and animal transport.
Thailand floods accelerated shortly after Kinship Circle, a nonprofit that specializes in animal advocacy and disaster rescue, returned from Japan — where animal relief lingered months beyond a mass earthquake and tsunami, due to deserted towns near Fukushima's damaged nuclear plant.
When the group's executive director, Brenda Shoss, learned about Thailand's worst flood in 75 years, she decided to activate. "We viewed satellite maps with a water mass that stretched from Ayutaya down across Bangkok, a city of millions. As one district pumps out flood waters, another fills. Some say the sewage-filled water won't recede for months. We saw 10 or 15 dogs perched on the same roof, marooned on porches, floating in cages… Monkeys, dogs, or other creatures crowded into Buddhist temples. They all want to live. The generous Thai people, including monks, feed them as best they can. But more help is needed for animal flood victims."
Kinship Circle seeks public support for critically needed supplies and to send disaster-trained volunteers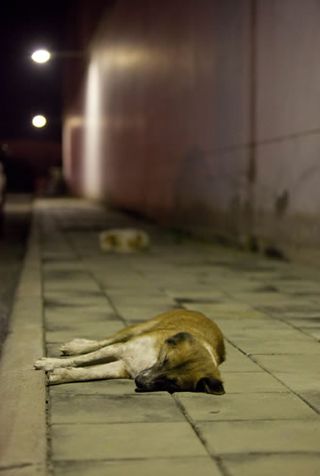 to assist with emergency sheltering and field rescue.
DONATE TO THAILAND ANIMAL FLOOD RELIEF:
www.kinshipcircle.org/donation
DONATIONS ARE VITAL TO: Send disaster-trained volunteers for emergency sheltering and field rescue.
Field Notes & Photos About Animal Disaster Rescue In Thailand:
http://www.kinshipcircle.org/disasters/thailand_floods/notes1.html
KINSHIP CIRCLE KINSHIP CIRCLE is a nonprofit that promotes animal protection and freedom by rallying voices worldwide to seek legislative, industry and societal reforms for animals. Our primary focus is investigative research and action campaigns to end cruel practices or enforce/enact animal laws. Kinship Circle advocates education as a pathway to change. We produce literature on over 50 topics for use in humane education settings, student projects, presentations, letters, articles, press kits…
KINSHIP CIRCLE DISASTER ANIMAL RESPONSE TEAM is is a specialized faction within Kinship Circle that activates for animal emergency aid. Our response teams reflect a wide range of training and certification in areas such as search and rescue, field first aid, veterinary care, crisis sheltering, fire and water rescue, large animal rescue, technical rescue, wildlife rehab…and more expert skills. Some disasters we've deployed teams to include: Thailand floods; Hurricane Irene; Japan earthquake-tsunami-radiation crisis; Brazil floods-mudslides; Chile earthquake-tsunami; Gulf oil disaster; Haiti earthquake; Iowa floods; Hurricanes Gustav and Ike; Hurricanes Katrina and Rita.