by Co-founder, Yvonne DiVita (mom to Wabby, Chester, Emily and Olive)
Actually, it's not all about the dogs. It's not all about the cats. It's not all about the ferrets, guinea pigs, and other pets people bring to BlogPaws. It's about…the people.
The coming conference in Salt Lake City will be like the others – it offers expert speakers on a variety of social media marketing topics. It offers networking opportunities and exhibit tables where our favorite brands want to talk to us. It offers a wealth of information to help you, the blogger or micro-blogger, excel at your online efforts.
But, the very best and most important thing is offers is – that face-to-face connection with the people you love! 
Laurie Ruettimann, one of our Monetization speakers, wrote a post on her blog recently talking about this very topic. Understand that Laurie is a career advice blogger and covers HR – and cats. She travels and speaks and shares advice on the people-part of conferences, more than anyone I know. Here's what she said in her post,
Social media is dumb and makes us lonely unless we can convert our narcissistic impulses and voices in our head into meaningful interactions in life. Texting, Facebook, LinkedIn, Twitter can't help you find a soul mate or your kindred spirit — but if you are someone like me who lives thousands of miles away from the people that she loves, my smartphone can bridge the gap.
And isn't that what life is all about? Yes, sharing ideas on my blog is fabulous — but I want to see the people I love and eat ice cream and cupcakes.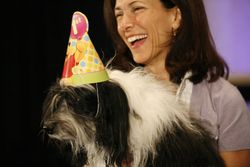 So I'm probably going to haul my ass down to Atlanta in June to connect with amazing HR professionals. Who cares about Twitter and Facebook groups? I just want to visit with my friends at SHRM12, get a little smarter by association and enjoy the company of the people I adore.
Forget about social media. The media part is a tool. The social part is a lifeline.
We hope to see you at BlogPaws, this year. You're our lifeline.