As a blogger, have you ever considered writing a book but don't know where to start? BlogPaws has a bevy of industry experts coming to the conference in a few weeks and we know this is one session prospective authors will want to attend.
Darlene Arden will lead "So
You Want to Write a Book" on Friday, May 17th, and we have the scoop on what to expand. Just one more fab session for your conference consideration:
BlogPaws: Hi Darlene, welcome to the pack. What will you be speaking about at BlogPaws and what do you hope folks learn
Darlene Arden: Everyone
wants to write book, thinks they can write a book, or tells me they could have
written one of my books.  There's more to it than most people imagine.
 I'll be speaking about the how-to of writing a book proposal, the nuts
and bolts of it, and how to find an agent will be a little "bonus"
info. After that it's up to the individual to decide if they have the fortitude
to try to get a book published.
BlogPaws: Have you been to BlogPaws before?
Darlene: This is my first time.
BlogPaws: What can folks hope to learn by attending your session? (Which I see is at the pro level, but open to anyone who has an interest in this topic)
Darlene: I hope they'll learn how to put their best foot forward. No one can guarantee
that they'll get a book published but they'll learn what goes into a book
proposal (it's a lot of work), how to present it well.
The things no one
told me when I needed to know.  They'll also learn how to go about finding
an agent.  What they'll learn is about mainstream publishing, not
self-publishing.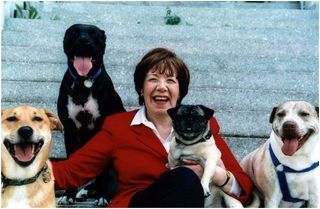 BlogPaws: What is your favorite aspect of attending
BlogPaws/what do you most anticipate as an attendee?
Darlene: I'm
looking forward to networking with other bloggers and with sponsors and, of
course, seeing friends from other venues, as well as learning helpful
information for bloggers.  I can't choose one thing! This will be my first
BlogPaws experience so I'm looking forward to all of it!
BlogPaws: Do you
have pets and if so, their names/ages/types?
Darlene: Aimee
is my only pet at the present time. She's a 13 1/2 year old Chartreux, a
retired show cat who came to live with me when she was 3 1/2.  Her more
formal name is: GP Sinaye's Plaisir d'Amour of Ajolie.
BlogPaws: Where can
people learn more about you? (blog, Twitter handle, Facebook links, etc):
My
website: www.darlenearden.com
My
Twitter handle is: petxpert
Facebook:
www.facebook.com/petxpert
 I also have a fan page and a Group on Facebook.  The Fan Page is
under my name; the Group is Fans of Rover, Get Off Her Leg! (never name
anything at 3 a.m.) but we discuss ALL pets, not just dogs.
I'm
on Pinterest as Darlene Arden and
I'm
on LinkedIn and Google+
My
pet related blog (I have another, general blog, at another site) is: www.perpetuallyspeaking.blogspot.com
BlogPaws: Just for
fun, what is something about you people would be surprised to learn?
Darlene: I've
always been very shy.
BlogPaws: What is one website
you visit at least once daily?
Darlene:  Just
one??!  I guess it would have to be Facebook since I'm so involved there.
BlogPaws: What is a favorite blog or
blogger you follow regularly? (other than your own)
Darlene:   Oh,
no!  You're not trapping me into that! LOL  I have too many favorites
and I'm not going to name just one!

Grab your ticket and get registered: http://blogpawsconference.com