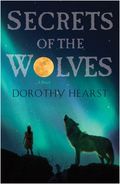 Authored by: _______ (your name here). Imagine the feeling with your name on the book cover! BlogPaws has a stellar lineup of speakers at its upcoming conference and to whet your palate (and pen), we're continuing in our BlogPaws Speakers Series.
Published author Dorothy Hearst reveals, "Bloggers often have difficulty making the transition from short-form online writing to writing and publishing a book-length work for professional publication." With her session at BlogPaws, where she'll be speaking with Spencer Quinn and Penny Sansevieri. Get a sneak peek of Dorothy's "get published" advice with this exclusive interview.  
BlogPaws: Welcome, Dorothy! Our readers and bloggers have been whetting their publishing appetites reading about Spencer and Penny. Tell us more about the session.
Dorothy: Want to get a book published? This session will give attendees the tools and knowledge they need to do so.  It will provide specific advice on how to choose topics for publication, write successfully for publication, craft a proposal, find an agent or publisher, and create an author platform that will attract publishers.  It will address the pros and cons of traditional publishing, self-publishing, and e-publishing, and help attendees decide which option is best for their particular needs. 
BlogPaws: This is your third time to BlogPaws. Tell us what makes you return time and again.
Dorothy: I particularly enjoy meeting people with different skills and different sorts of knowledge. I learn so much from other attendees.  And I love being around so many people who love pets enough to come to a conference about pet-blogging! And, of course, all the furry attendees!
BlogPaws: Tell us about any pets in your life.
Dorothy: I freely borrow other people's dogs: Emmi, my sister's 9-year-old Labrador, Inna of mixed origin, and Sasha the Shaggy.
BlogPaws: As a published author, where can people learn more about your books and you?
Dorothy: www.DorothyHearst.com
BlogPaws: Fun fact – dish something "off the beaten path" to us about Dorothy!
Dorothy: At the age of (ahem), I can still walk on my hands, do the splits and do a one-handed cartwheel.
Thanks to ThePetPhotographer.com for allowing usage of the photos.
Catch up on every person we've interviewed thus far (and miles to go before we sleep; wait, we don't sleep *wink* )… In the Community: BlogPaws Speaker Series
Sign up for BlogPaws 2012 and say hello to Penny in person. See you there!