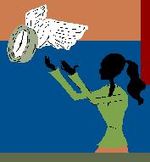 by Yvonne DiVita
Time flies, doesn't it? It seems like just last year we were busy getting ready for the 2011 BlogPaws social media conference, planned for Tysons Corner, VA. We were talking with our sponsors and planning our contests and looking at the hotel for its pet friendliness (walking areas, where people could take pets, and which rooms were off-limits to pets). 
Hey, wait a minute! It was a whole year ago! And we had the conference and it was full of laughter, learning and living! Despite a hurricane! OMG!
Now, were in serious planning for our June conference which will be held in Salt Lake City, UT. I hope you're registered! Early bird pricing ends in less than two weeks!
Getting ready for BlogPaws 2012 involves a lot of behind the scenes prep, which I would love to share but which would just bore you to pieces! Talk, talk, talk… plan, plan, plan…revise, revise, revise. That's what we do. And, then we take a nap. BOL!
In the meantime, we also keep our ears open to your requests. We watch the community to try and stay on top on the questions or concerns folks post there. We look at travel options, weather, food, and what to do in the area. This is the best time to start planning for a roommate. Or, a trip with a small group – who doesn't like to go on road trips? With their pets? Seriously!
A big part of planning is scheduling the agenda and vetting speakers. We're talking with some truly talented and smart people in the social media educational/consulting world – people eager to bring their expertise to BlogPaws to work with our bloggers. Remember – twitter and facebook are also a form of blogging – we call them microblogging. Everyone who uses social media tools is, for BlogPaws' purposes, a blogger. It may be stretching the term a bit, but we embrace all people who love pets and converse online – whether they 'blog' in the traditional sense, or not.
If you have ideas to share, now is the time to get them in front of us. If you have concerns, share them so we can do our best to take care of them – well ahead of the actual conference. If you have questions, don't hesitate to write to one of us. If we don't have the answer off the top of our heads, we'll work till we figure it out. 
BlogPaws isn't for us – the BlogPaws' players (our executive team and Paws on the Ground folks) are here to serve you. BlogPaws exists to teach bloggers – those pet people who spend a lot of time online – how to be better bloggers, whatever that may mean to them. We also work to support our members who are devoted to shelters and rescues, because we are too! 
It's our belief, at BlogPaws, that the world is a better place with pets in it. Not only do they make us healthier, they give us unconditional love. To that end, we believe in sharing information, teaching, learning, partnering, advising, and sometimes scolding (who among us doesn't want BSL overturned, everywhere?)… in order to create a world where the heatlh and welfare of our pets is as important as the health and welfare of ourselves and our planet. After all, we're all part of the same family – aren't we? We all live on the same planet. 
I hope to see you in June. I know I will learn from all of you – probably more than you'll learn at the dozens of sessions we are planning for you. Learning is an on-going process and from my perspective it isn't something you only do sometimes – it's something you do every day. If I can qualify what I learned in 2011 – from all of you, in one word, it's "listen."
I am practicing better listening skills. 
What did you learn in 2011 – from BlogPaws or elsewhere – that is putting on the right path for 2012? Do tell!