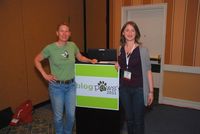 This year's BlogPaws conference may have been impacted by earthquakes and hurricanes (ok, we WERE impacted by those natural disasters – but we weren't deterred!), but the conference was still a big success because those who were able to stay not only made the best of it, but also bonded in ways they might not have, had the nasty weather not intruded.
Luckily for BlogPaws, only a few speakers missed attending, or had to leave early. We held sessions as planned and if the survey forms are any indication, the speakers rocked each and every session! We <3 all of you!
Tom, Caroline and I (along with my daughter, Chloe, and a group of fantastic volunteers you will hear more about later) are hard at work on the 2012 BlogPaws being held in Salt Lake City, UT. Some of you might ask, "Why Utah?" It seems like an unlikely place for a conference. It's not Chicago, or NYC, or San Diego, or any of the usual conference venues.
That's one reason we chose it – for its uniqueness. Another reason is for its pet-friendliness. There are only a few conference venues that can hold our growing group and will also accept our pets. I will admit that I just like saying, "We'll be in Salt Lake City." Not sure why that makes me happy, but it does.
This year, as in past years, we did our best to help bloggers learn how to get sponsored, or find ways to cover the cost of travel to BlogPaws. As most of you know, we hold contests and give out free passes throughout the year, leading up to the event. We also work with sponsors who want bloggers to be there on their behalf. But, in the end, it's up to you, the blogger, to find a way to get to BlogPaws. Because that's so true, this post is offered as a little nudge to get you thinking ahead. June of 2012 will be here before you know it, and we're seeing registrations come in already, so… rather than procrastinate –
here are 5 ideas to get you ready for BlogPaws 2012:
1. Figure out how much you need. Consider registration, travel expenses, hotel, food (we try to provide lots of food but you'll likely need $$ for some food), cabs to and from the airport, and any other incidentals. KNOW within a few dollars, how much it will cost you to attend.
2. Start saving now. Put a few dollars away every week (for instance, give up a latte or a fast food lunch; drive less, walk more and save on gas; buy generic snacks at the grocery store).
3. Buddy up! Choose a good blogger friend (a newbie who has not attended yet, or someone who has that you are close to) and create a competition to see who can save up the needed cash fastest! The loser has to walk the winner's dog while at the event. Or, clean the litter box. Or, tend to the ferret,
guinea pig, etc. (this is Tango and Jack, two dogs who buddied up at BlogPaws 2011 for the Niche Blogging session.)
4. If you're local to Salt Lake City (within a 6 hour drive), find 2-3 friends to travel with and start planning your road trip! Think of all the touchpoints you'll have to tweet, write on Facebook, and blog about. Make a game out of it.
5. Clean out your closests and your basement and have a garage sale, then put the cash in a savings account. Plan to do so again in six months. Let's face it, we never get rid of ALL the clothes and shoes we should get rid of. In six months, you'll be able to fill more boxes and take stuff to your local affiliate shop – never forget, one man's trash is another man's treasure. (you could also watch DIY TV and repurpose old items then sell them at your local flea market).
Of course, a BIG savings is in Early Bird Registration!
What else? I bet you have even MORE ideas on ways to begin saving for BlogPaws 2012, right now. Please share them here.