Guest post by Blog Manager Robbi Hess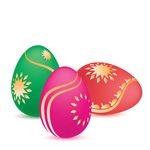 Happy Easter everyone! As with every holiday, (I noticed this when I looked back at my pet posts around holiday times) I am here to spread the word about pet safety at the holiday time.
Here are five pet safety tips I have to pass along to keep your four-legged family members happy, healthy and safe on Easter (some of these tips should be kept in mind year round):
Plastic and hardboiled, colored eggs: These eggs are beautiful to behold but if your pet is a chewer, he can sustain an injury if he chews and swallows either the plastic eggs or the shells of a hardboiled egg. Make certain when you hide the eggs that they aren't in an area where your pet can get to them and keep track of them so you know one hasn't been left by mistake.
Easter grass. As with Christmas tree tinsel, cats are drawn to the Easter grass that fills baskets. This grass, if ingested can be lethal to your pet because it cannot be digested and can damage their intestines. You can remove this hazard by substituting paper confetti or even real grass!
 Easter lilies. These beautiful symbols of the season are one of the most poisonous plants to your pets. If ingested, your pet will suffer loss of appetite, vomiting, lethargy and even death if left untreated as it can cause kidney failure. Check the craft stores for fake lilies – they are just as beautiful and not lethal.
Candy of all kinds, especially chocolate. Pet owners know that chocolate is lethal – no matter the time of year – but other candy can cause intestinal problems for your pet. In many instances, holiday candy is wrapped in foil and this cannot be digested.
Easter basket toys. Many of these toys are small and can pose a choking hazard for your pet. Keep all small toys away from animals, keep baskets off the ground and keep your pet in a separate room when the children are unwrapping their baskets.
As pet lovers, we urge you to resist the urge to give your children baby chicks or bunnies for the holiday. Chicks grow up to be chickens and they lose their tiny fluffy cuteness. What will you do with a full grown chicken? As for bunnies, they are cute no matter what their age, but they require special care – as does any pet in your household – and are a lifelong commitment. If you are committed to the care of a bunny in your household, check with animal rescues and adopt a rabbit that is need of a forever home.