Does the early bird always get the worm? In the case of BlogPaws, the early bird gets the best price. If you register for the BlogPaws 2014 Conference by Halloween, you get the best price, the early bird price, AND you can enter the VIP Sweepstakes, too! Looks like Winchester Feline, BlogPaws Community member, is in a pickle but you don't have to be MOL. Click here for BlogPaws Early Bird tickets.
It is also time to celebrate Wordless Wednesday. If you don't know why you need to do Wordless Wednesday or what the heck it's all about, guess what? Video time! Oh and all pictures posted in the free BlogPaws Community are eligible to appear on this post each week.
Visit and leave comments on other blogs to make some new buddies and maybe some new followers. You can add the BlogPaws Blog Hop button to your post and/or to your blog sidebar, either by cutting and pasting the image or using the HTML code below. For those who prefer to read instructions:


  How to Join a Blog Hop – BlogPaws Tutorial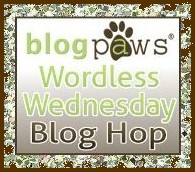 Featured Wordless Wednesday photos are randomly chosen each week from photos posted by BlogPaws Community members. Please do not email your photos. If you're not a member, you can join us here: BlogPaws Community Center. It only takes a tail wag time out of your day (or night).
If you aren't already a member, there's no better time to
join the BlogPaws
Online Community!