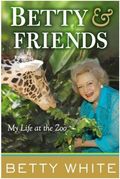 by: Carol Bryant
They both love animals and will be in New York City this week for the Betty White Friars Club Roast. I grew up watching roasts on television to the likes and clinks of the champagne flutes.
Dean Martin, Jerry Lewis, Sammy Davis Jr., and Johnny Carson took many a ribbing and quite the few all-in-good-fun pot shots as their peers celebrated them with time-honored gala roasts.
Some may recall that between 1998 and 2001, Comedy Central televised the first annual New York Friars Club roasts. In fact, in 1978, Betty White was the guest of honor. Check out the YouTube footage we mustered up.

BlogPaws will be covering the event on their blog courtesy of yours truly and have many tweets to share so be sure to follow us on BlogPaws Twitter. (#bettywhiteroast and #blogpaws) The fun kicks off on Wednesday, May 16, when animal lover and advocate, Betty White, is roasted by the Friars Club in New York City. Dogs may be man's best friend but Betty White is a best friend, in a golden way, to all animals.
BlogPaws guest speaker, and animal lover and advocate in his own right, the Chicago Tribune's Steve Dale, wrote a standout article about Betty on his blog: Betty White is Young at Heart – It's All About Her Dog. Join Steve and the 500 other pet lovers in Salt Lake City this June for BlogPaws and/or join us virtually without ever leaving your abode (via live stream).
Follow the hashtag #bettywhiteroast and #blogpaws for all the fun, excitement, coverage, and roast extravaganza this Wednesday, May 16th.
Nature's Variety is a sponsor of the star-studded event honoring Betty White and we are proud to be attending as their guest!
More in-pawson fun and celeb-spotting at BlogPaws:
Pricing here: BlogPaws Online Experience and Live Streaming
SAVE 10% AT CHECKOUT WITH CODE SAVE10
More about BlogPaws and to register for in-person: BlogPaws 2012 registration
Everyone can be there, so come join us virtually and/or in paw-son!