Guest post by Doreen Disbro
I had a few goals in mind when I started Doggies and Stuff.  Not only did I have goals, but I had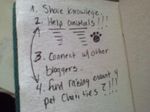 information I wanted to share with others – a lot of information.  Doggies and Stuff gives me an outlet – a way to talk to others about things I feel are important and that I care about: Dogs, Saving the Planet, Pet Charities, Putting an End to Puppy Mills, Stomping out BSL, Tougher Penalties for those Caught Dog Fighting, How to Choose Safe, Green/Organic/Natural Products for your Dog(s) – to name a few.  Sure, free stuff is cool - I love being able to give my readers a chance to win some pretty cool products for their pets (and sometimes products for pet parents) – but there are so many other things that I am passionate about that I want to share.

Why I started Doggies and Stuff (not in any particular order) –
Share Knowledge!  I have always been THAT person to come to when someone has a dog question.  I grew up with dogs, so I have a lot of personal experiences that I can share with others.  That, combined with being a sponge and just soaking up as much information as I can, gives me a lot of knowledge that I can share with other pet parents.
Be a Voice!  I am a voice for those who do not have one.  Animals cannot talk but I CAN and I WILL!  I can be their advocate.  As long as I have a breath in my body I will continue to fight for them.  Having a dog blog allows me to have a voice for animals and that is more important to me than anything.
Animal Welfare! I can say with certainty that 100% of the pet bloggers out there are in some way involved in rescue, animal welfare, etc.  What better way to get information out about pet charities, animals in need, fund raising, legislation and much more than by blogging?  From the moment I decided to start a blog I carried a small notebook with me.  I jotted down the reasons why I wanted to start a blog and helping animals was a big deal for me. 
Product Reviews!  I used to seek out companies that would send me products to try out.  My pet product testers – Millie, Kiko and Riley are very good at their jobs!  They put products to the test and then I write about them!  Companies seek me out nowadays.  It took some time to get to this point but it was quite flattering when I didn't have to send those emails anymore!  I do enjoy writing product reviews and I am very honest about how I feel about products.  I have turned down review requests for a variety of reasons.  If I know ahead of time that it is a product I would not recommend I tell the company exactly that!  If I receive a product that I cannot write a positive review about I will tell the company and give them an opportunity to 1. give a response to the issue I have with the product, which I will include in the review 2. give them an opportunity to back out of the review.
Build Relationships! Not only do I build relationships with brands, but I build relationships with my readers and other bloggers as well.  We all have things in common and we all come together in times of need.  Relationships are important to me.  I am a mentor for one blogger right now and I collaborate with others.  I do not look at blogging as me against them, although I know of some bloggers that operate that way.  It's not healthy to think that way and it only makes the blog look bad.  When BlogPaws started their BlogPaws Community I was really excited!  Finally – a place for animal bloggers to meet and gather!  BlogPaws definitely helped build Doggies and Stuff.  While I worked really hard to get where I am today, I know that I have a dog food sponsor because of BlogPaws.  I also have relationships with well-known brands, brands that are growing, brands I love, and pet stores because of BlogPaws.  I wrote my first magazine article because of chance meeting at Blogpaws.  This is why I encourage others to attend BlogPaws.  Great things will happen!  Relationships will happen!  Ideas will start swirling in your head and you'll come home ready to put those ideas to work!  By the way, if you are thinking about going to BlogPaws please feel free to use my 20% off discount code: BlogPaws2012-POPs-Doreen
So – I had a pretty clear idea of the content I wanted to have in my blog but it wasn't until the very first BlogPaws Conference that I connected with others who shared some of my ideas and goals.  It was a relief that there were others like me and that we could all work together to make things happen for animals.  BlogPaws helped me realize my potential by providing workshops, opportunities and connections.  They play a big part of where Doggies and Stuff is today and where we are going.
About: Doreen  is founder of Doggies and Stuff, the award-winning blog.As a contributor to Fido Friendly as well as an active member of the pet blogging community, Doggies and Stuff brings its readers the best product reviews and recommendations for the health of our dogs and our planet. A long-time animal welfare advocate, Doreen teams up with her canine sidekicks Kiko, Millie, and Riley Elizabeth to search for eco-friendly dog care products across the country.