Be the Change for Pets: This is a BlogPaws mantra. BlogPaws will be presenting a check today in the amount of $2,120 to the Larimer Humane Society due to their involvement with animals affected by the High Park fires in Colorado.
Larimer Humane Society has cared for over 625 animals, returned 500 animals safely to their owners, and provided temporary shelter for evacuated animals, in addition to other efforts.

Larimer Humane Society coordinated the rescue of all animals in the High Park fire zone, provided food and water to animals by owner request (as permitted by Fire and Sheriff authorities) for animals that have not been evacuated, is reuniting owners with lost animals, and providing temporary shelter for evacuated animals.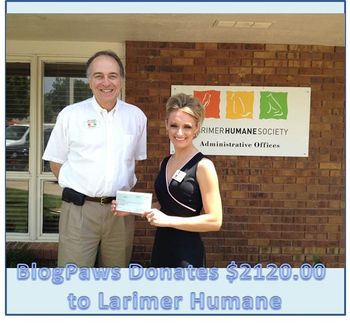 We thank all the BlogPaws members who chipped in and send a very special thanks to Lena West, one of our conference keynote speakers and motivational/social media guru extraordinaire, for her generous donation to help these people help animals in need.
How can you help be the change for pets? We have a free downloadable e-book as presented at the BlogPaws 2011 conference.
Join us year-round in our BlogPaws Community and be a part of the 2013  BlogPaws conference in Tyson's Corner, Virginia!