Post by Blog Manager Robbi Hess
We, here at BlogPaws, are like James Herriot and love "all creatures great and small," but this month we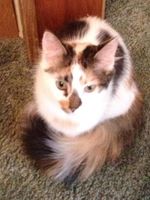 are loving on cats just a smidge more as they are our spotlight pet. Because June is National Adopt a Cat/Adopt a Shelter Cat Month we are hosting themed chats in our Community, Twitter Pawty chats, writing blog posts and giving away cat-themed prizes that have been generously donated by cat-loving community members that have partnered up with BlogPaws for this month long event. 
Every Monday for the rest of June we will be featuring a set of individuals that have offered prizes "all for the love of cats." Check the Community and our Facebook page as well as the blog to find out dates and times of upcoming events. 
Here are some of the great prizes that will be available:
If you've written any blog posts that are cat and/or adoption-related, have pinned adorable photos on Pinterest or have any videos you've taken of your beloved feline, we'd love to hear about them!