The BlogPaws Conference 2013 tentative agenda has been released! For all of you who are coming to the conference, here's the latest and greatest info.
We'll be updating and continuing to craft our information as it becomes available. For now, here's what not to miss:
The BlogPaws 2013 tentative conference program can be found here: BlogPaws 2013
SOME THINGS NOT TO MISS:
Thursday sessions and video workshop. The conference officially kicks
off in Tysons Corner, VA on May 16th at 1:00 PM with your choice of a
video workshop with Kenn Bell or your choice of sessions!
Thursday evening's Opening Reception Pawty!
The cats are being served again this year with Kate Benjamin's presentation of the Hauspanther Lounge!
Both the indoor dog park and outdoor dog park will be open most of the conference for your dogs to run, play and network. BOL!
A Friday late afternoon Exhibit Hall happy hour.
Continuation of the Honor Flag Project, brought to you by Wanda Kruse.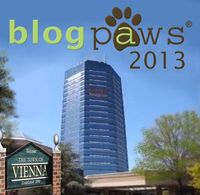 A Friday night DIY (Do It Yourself) event to network and craft with friends and pets.
Keynote speakers Steve Dale, CABC and Clara Shih, The Facebook Era Author.
TONS of great speakers and learning sessions broken out into tracks
for YOUR level: 101 – beginnger, 201 – intermediate, PRO – advanced and a
Law track, a Pet Lifestyle track and a couple Be The Change For Pets
Tracks.
Morning Yoga/Doga with Robin Bisha.
The 2013 Red Carpet ceremony for BlogPaws 2013 Nose-to-Nose Pet Blogging and Social Media Awards!
BlogPaws is working hard to bring you the best in new media education.
Please check back for updates on our 2013 schedule! We will be
announcing more sessions and speakers soon!
Have you seen our outstanding speaker lineup? BlogPaws Speakers 2013
Join us for BlogPaws 2013: Register here