Guest post by Blog Manager Robbi Hess
For everyone who attended BlogPaws, I imagine it was a whirlwind of networking, knowledge-filled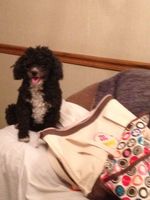 sessions from great speakes, meeting new friends, reconnecting with old friends and pawtying until all hours! But now you're back home, the luggage is unpacked, the swag is being distributed to your furiends and you have a stack of business cards in your hand. What do you do now? 
Here are my best tips for making the most of those connections, keeping in touch and building on the momentum started by your attendance at BlogPaws 2013: 
Follow up. If you received a business card, send an email as a quick way to touch base. Use the subject line to remind them where you met. If you remember what you'd talked about, bring that up in the email. If you have a product or service to sell, don't do that in your initial email… use that first email contact as a way to build the relationship. 
Follow them. Check out their websites, follow them on Facebook, Twitter, Pinterest. Connect on Google+ and LinkedIn. Retweet and share valuable content they're offering. Everyone appreciates knowing their info is being shared. 
Blog about it. Did your new contact share info that you can blog about? Then do it! Do they have great info on their website that you can link back to? Share the love! Are they someone you want to interview for your blog? Set up an appointment! Is guest blogging (you on theirs or them on yours) something you're hoping for? Ask them if they'd be so inclined. 
Share the love. Did you take photos at BlogPaws? Put them on your social media pages and tag the individuals. Did you attend a session they lead and did you love the info they shared? Spread that info across your social media channels. 
Promote the brand. Did you speak with any of the representatives from the brands? Did you get samples or buy product? Use it then blog about it. That is a great way to build relationships. 
Last but certainly not least. Keep the momentum going by registering early for BlogPaws 2014! See you in Vegas! 
What is your best advice for keeping the BlogPaws networking momentum moving?