BlogPaws prides itself on attracting the best minds in social media marketing and more. Our speakers bring expertise in things like SEO, Monetization, Creating Products, Pinterest, Facebook, Twitter, Tout, YouTube, Google+, Analytics and SO MUCH MORE! Check out the schedule and start planning your sessions.
We also have some fun announcements to make. Our Saturday evening party – and those of you who have been to BlogPaws before know it is a fun, memorable time! – is going to be an event you don't want to miss. We hope you are planning your conference trip. If you haven't registered yet you can do that here.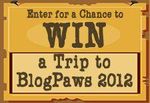 BlogPaws or Bust!
Do you follow us on Facebook? To join in on the BlogPaws or Bust! contest, Follow us Facebook! We'll be posting more details there! The winner of the BlogPaws or Bust contest wins a trip to BlogPaws – that means a full conference pass andtravel arrangements! One lucky runner up will win a full conference pass and 3 nights hotel for the conference. One lucky second runner up will win a full conference pass. Stay tuned. It won't be long now!