By: Carol Bryant
Some people are so sizzling hot in their message that their career and passion turns into, well, fire! Firefighter and blogger Dayna Hilton carries on the message of fire safety and prevention with her Dalmatian. Sparkles, her first fire safety dog, paved the way for Siren, whose work with the Keep Kids Fire Safe Foundation, keeps the message alive.
Dayna has embraced the power of live streaming and all it encompasses in spreading her message. Ever wish you could share your blog message with the world in a real-time fashion?

Each week, BlogPaws is featuring a gallery of speakers here on the blog so that our attendees and prospective ones, too, can get a sense of what to expect, what our speakers plan to share, and to get to know them in advance of attending (or you, too, can livestream many of the sessions!)
BlogPaws: Hey Dayna, welcome. How many times have you been to BlogPaws?
Dayna Hilton: Once and I can't wait to go back to my second one!
BlogPaws: What do you plan to impart to attendees about the power of live streaming on their blogs?
Dayna: Attendees will learn how live streaming is perfect for bloggers who have little or no funding and who want to enhance their blogging efforts and reach. All a blogger needs is a computer, webcam, lighting and internet connection, and they can have a successful live stream.
My show is called Sparkles' Safety Spot and is streamed live each week from Sparkles' Clubhouse. The show is hosted by the fire safety dogs and Firefighter Dayna and has attracted major corporate sponsors. Through this program, children learn fundamental fire safety knowledge and skills that help to save lives, reduce injuries, and reduce fire losses.
BlogPaws: How interesting and amazing to have that effect on helping people, Dayna. What are you anticipating about attending BlogPaws?
Dayna: I look most forward to seeing all of our Facebook friends of both the two and four-legged type live and in person/dog/cat. My favorite thing about BlogPaws is the networking opportunity that it provides. I have been to tons of conferences over the past ten years, but BlogPaws is my absolute FAVORITE!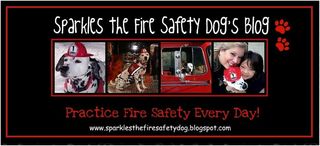 BlogPaws: Do you have pets?
Dayna: Three Dalmatians: Tango the Fire Safety Dog 10.5, Siren the Fire Safety Dog 1.5, and Deuce, a rescue, 10.
BlogPaws: Where can people learn more about you
Dayna:
www.sparklesthefiresafetydog.com/sparklessafetyspot.html
www.facebook.com/sirenthefiresafetydog
www.facebook.com/tangothefiresafetydog
www.facebook.com/sparklesthefiresafetydog
Fun fact about Dayna: I love playing the bagpipes. My fondest memory was playing with the New York Fire Department Pipes and Drums for the 9/11 Ceremony for Fallen Firefighters in Washington, DC. I have also played my pipes for Colin Powell. Both incredible experiences.
Catch up on all the speakers we've interviewed; we have the scoop here: BlogPaws Speakers Series
Sign up for BlogPaws 2012 and say hello to Nate in person. See you there!