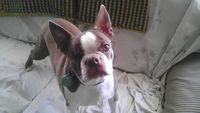 by Yvonne DiVita
"The reports of my death," Mark Twain is quoted as saying, "have been greatly exaggerated."
And so it is with blogging. The death of blogging has been reported more than once, by many a pundit and social media writer. Pew Internet said it was 'dying' back in 2010. John C. Dvorak reported on that in his article, "Is blogging dead?" 
"The way I see it, the power of modern blogging is being able to message the public and express yourself in unparalleled ways. With blogging, you have control over your own writings and material. I think that everyone should have a few blogs. It's mostly free after all," he wrote back then.
Today, Sally Falkow shares her thoughts on why reports of blogging's death are greatly exaggerated in her article, "So Blogging is Dead? Think Again!"  I agree with her reporting, especially her quote from Nora Ganim Barnes, "Blogging requires more investment. You need content regularly."
According to Gini Dietrich at Spinsucks, "Hubspot recently took a look at how blogging affects leads. They found, for companies that do blog, their monthly leads increased by 67% (for B2B) and 88% (for B2C). The survey goes on to show that updating it just once a week increases your leads by 77%."
A blog isn't a thing of afternoons. It isn't a passing fad. It isn't a short ditty, a poem, an essay… it's a collection of all of those things. It's a resource, a fountain of information, a collective musing out loud for a purpose. A blog exists to share – to connect – to be a voice when there is no sound. A blog is a challenge – it embraces good writing and forces bad writing to be better.
We talk blogging a lot here. We include micro-blogging (Facebook and Twitter) but those activities are not the stuff of kings and queens. On Facebook and Twitter, it's chatter – opinion without substance, sometimes. There is nothing wrong with that. The web was created for it. But, on a blog… on a blog you are more than just you. You're a purpose being fulfilled. You're a voice in a silent room. You're a reason to read. You make things happen.
When you blog, make it count. Blog because you need to, not because you can. Bring substance to your words. Show, don't tell. Be the best writer you know how to be. 
And, share. Share your thoughts, words, advice, musings, whatever… but share what you read, also. Share the blogs that are important to you. It's in our collective voices, standing up for those who are less able (the animals who so badly need us), that we accomplish the power of bloggersation.
Blog me… and I'll blog you.