Guest post by Jessica Rhae Williams
As many of you know, the BlogPaws community is a
great place for bloggers and microbloggers to connect. Everyone is very
supportive and goes out of their way to help each other out.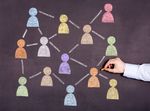 Some of the community members expressed interest in a way to share
fellow pet bloggers content. It was agreed that this sharing should be free,
easy, and not require already busy bloggers to spend a lot of extra time.
Enter Triberr. Triberr is a blog amplification platform designed to
help get more eyes on your content and drive more traffic to your blog.

Triberr primarily leverages Twitter to expand your blog's reach. Twitter
is a great place to promote your posts but each person has a limited number of
followers. With Triberr, like-minded bloggers can tweet your content to their
followers. In turn, their followers may share your content.
Each time your content is shared by another blogger, it is amplified
beyond your little Twittterverse. Your content has the potential to reach thousands
of new people that might read and fall in love with your blog.
Creating a Triberr profile is free and easy. You can sign in using your
Twitter account, connect the RSS feed from your blog to your profile and begin
following tribes within minutes. When you follow a tribe you will see all of
the posts from that tribe in your stream and be able to share them with your Twitter
followers.
Tribe members can only see and share content from other tribe members. After
about a week of following a tribe, Triberr automatically sends the Tribe Chief
an email requesting that you be promoted from a follower to a member. You can also
send a request to the Tribe Chief yourself. The Chief can then choose to promote
you to a full-fledged member.
There is now an easy way for pet bloggers to support each other by
sharing blog posts. A tribe has been created exclusively for BlogPaws community
members. To join the sharing network, create a Triberr
account if you don't already have one­­, visit the BlogPaws
Community Members tribe and request your membership.
We hope to see you soon.
About:  Jessica is a social media strategist and blogger who lives in the
outdoor Mecca of Seattle with


her husband and two miniature Dachshunds. She is Chief Blogger at YouDidWhatWithYourWiener.com,
a Top 50 Northwest Dog Blog. She writes about hiking with her dogs, pet obesity
and other fun adventures.