by guest blogger, Penny Sansevieri Author Marketing Experts, Inc
Holding Book Events in Non-Traditional Venues: Beyond the Bookstore
If you're tired of hearing "no" every time you try and secure a book signing, take heart. Signings have become a lot more challenging since more books than ever are being published each year and stores are cutting back on events. What's an author to do? If you're hungry for an event and not willing to wade through the endless submission process of a bookstore, consider doing events in non-bookstore markets.
What's a non-bookstore event? Well, obviously it's anything outside of a bookstore but more than that, it's a unique location, likely in your city or town. We've done events at video stores, electronics stores, grocery stores, restaurants, coffee shops, even Hallmark stores. When you start to dig into this market, the possibilities are really endless. It's just a matter of finding a place that will make sense to host your event.
Picking the Right Venue
The first piece of this is picking the right venue. The venue can depend on a few things; first, you might look at the topic of your book to help generate some ideas. We once had an author who wrote a book on wine/movie pairings – pairing the right wine with a movie. I placed this author in a Blockbuster Video and the results were tremendous. I had another author with a computer book and I placed him at a computer store on a busy Saturday afternoon. He sold out of some 65 copies of his book in one  afternoon.
Another great venue is a Hallmark or some other gift shop. Why? Because people are going to a gift shop or Hallmark for one thing: a gift. Autographed books make great gifts.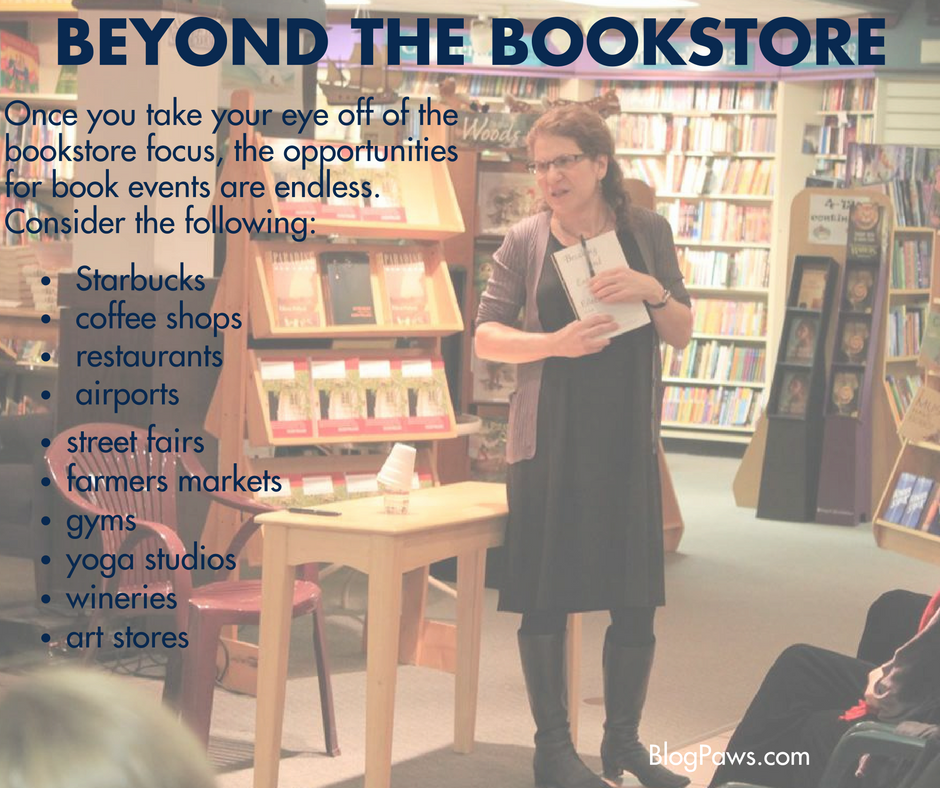 Selling the Idea to the Venue
This will take a bit of work because it's likely that the venue has never even entertained the idea of doing an event, let alone an author signing. You'll need to make sure they are clear on the WIIFM (what's in it for me): tell them you'll be promoting the event, marketing it to the media (which we'll cover further on in this article).
Make sure they know that you'll handle the book orders (meaning getting the books to the store) if need be. Yes, there is a lot more legwork involved for these events, but the payoff is huge. You may have to sell the books to them on consignment; what that means is that they take the books and can return to you whatever they don't sell. Encourage the venue, however, to keep a stock in their store after the event in case people come by when you're gone. I've done this before, and nine times out of ten the books never get returned to the author and are sold instead. Also, in many cases the store will often reorder and before you know it, you're part of their inventory.
The other piece to this is to try, whenever you can, not to go through their corporate offices. Much like doing an event at Starbucks (which I've also done) and Hallmark, a pitch to corporate could take weeks and even months to approve. Most stores have the ability to approve from 3-5 events per year, meaning that they can have events at their store without having to go through the corporate offices. Most major corporations do this so that the stores can provide community support without getting bogged down in tedious paperwork for event approval. If you can avoid the red-tape of a corporate approval, do that whenever you can.
Selling the Books
As I mentioned, you will likely have to do a consignment. The inventory part for most major stores gets tricky, and if the books have to be approved for inventory, you'll end up going through corporate again. More red tape. Try to work with the venue as much as you can so you don't have to create an inventory of your books. The upside, however, is that if the inventory process is easy, you will be on their reorder list for the future!
Marketing the Event
This is the easy part, believe it or not. Local media loves local authors and while that's a good foot in the door – the unique venue location will virtually seal the deal. Market yourself to media well in advance of the event and then again the event day. Also, if you're doing an event in a mall, see if you can get the other stores to participate by doing bookmarks or bag stuffers. Bag stuffers, by the way, are a great way to help the store market your event. You could also do a custom bookmark. With printing so cheap these days, it might be easier to have event-specific bookmarks made up that you can give to the store to help them push the event to their patrons. Make sure you get the store OK first, before you hand them bag stuffers and bookmarks. Also ask if you can create a poster that includes your book cover and the event information. See if you can get a placement on the venue website and perhaps a notification sent to their mailing list. Unlike bookstores that crank out author events all the time, a unique venue that doesn't see author events all that much will be much more receptive to promotional ideas.
More Venue Ideas
Once you take your eye off of the bookstore focus, the opportunities for book events are endless. Consider the following: street fairs, farmers markets, gyms, yoga studios, wineries, art stores, Starbucks, coffee shops, restaurants, grocery stores, airports. Yes, I said airports. I've traveled a great deal and almost every time I go through the San Diego airport, Dallas Fort Worth or San Francisco, I see an author signing their books. Look out for this: if you're not paying attention you could miss it while rushing to catch your flight.
Other Benefits to Doing Non-Bookstore Events
The benefits of these types of events are pretty significant, especially if speaking and events are part of your marketing tool kit. Book events held in these exclusive markets will not only take you off the track of competing for space in a bookstore, but because they are unique they will draw much more attention both from the media and readers.
Having a traditional book signing is always great. It will help you get into the bookstore market and might even get your book on their shelf. But if bookstores aren't open to an event, don't let that discourage you from planning one. Being unique will not only help you gain more attention, but it will help to keep you out of the rejection funnel that often comes from competing in a high-traffic market. Also, venue events outside of bookstores are a fun way to build an audience, get your feet wet doing events and speaking and grow your career as an author!