By Lorie Huston, DVM
Last month, with temperatures pushing up the mercury outside, Animal Café served up lots of hot dishes ranging from CPR to "glamping" and then some.
The month started off with Eric Goebelbecker and Ariana Kincaid of Operation Socialization discussing how to get a puppy started off right. The focus, of course, was on early socialization for puppies. Ariana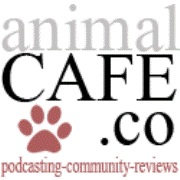 explained the ins and outs of providing adequate socialization for your new puppy and talked about the reasons that socialization is so important.
Next on tap, Carol Bryant, social media and PR director of FIDOFriendly, joined Edie Jarolim to help celebrate FIDOFriendly's 50th issue and talk about trends in pet travel. Topics ranged from how a hotel can qualify as a first-class puppy-recommended vacation spot to the very exotic sounding topic of "glamping". If you don't know what "glamping" is, you'll just have to listen to the podcast to find out. Happy anniversary to FIDOFriendly!

Also on the buffet table, the entire Animal Café team gathered to chat with Caroline Golon and Yvonne DiVita of…yeah, you know already…BlogPaws. The menu focused entirely on Blogpaws and the BlogPaws team. Included were such topics as how BlogPaws got its start, what the future holds, the upcoming BlogPaws conference and the corresponding Vet Track. If you don't already have your reservations to attend the conference, I recommend you get them right away. It's something I certainly don't want to miss. But for now, you'll have to settle for the podcast.
Topping off the smorgasbord this month was Dr. Lorie Huston's chat with Jillian Myers of Healthy Paws LA. Jillian is a certified pet CPR and first aid instructor. She shared the tragic story of the loss of her pet Diego and discussed the many reasons pet owners should pursue learning CPR and first aid sooner rather than later. After all, knowing what to do in an emergency could save your pet's life. What pet owner needs more incentive than that?
The last bit of Animal Café news involves bidding a fond farewell to Eric Goebelbecker, who is sadly leaving us to pursue a new job and new responsibilities with the IAABC. We all wish Eric well. He will certainly be missed. But we're also very excited to announce the addition of Kelly Gorman Dunbar to our team. Kelly is the co-founder and executive editor of Dog Star Daily and a Certified Nose Work Instructor. We're happy to welcome her to Animal Café.