By Guest Blogger Michele C. Hollow of Pet News and Views
A friend of mine is working with a company that has 11 web sites. He complains that 80 percent of the copy on each of them use recycled press releases. He writes more than a dozen stories a week—many where copy gets pulled from press releases.
As a freelance journalist, I have written hard news stories, features, and have gone over to the other side to write press releases. The money over there is better. And as a journalist, I like getting press releases. Many fuel ideas for future stories. I do hold the line on printing press releases word-for-word.
Let's face it; many of us get the same press releases. So, I use these releases as a base. I tend to look for a different angle. I may call or e-mail the contact on the press release with questions.
Depending on the story, I may contact other experts to broaden the scope of the post. I just wrote a story that started from a press release about the negative effects TNR (Trap Neuter Return) has on the environment. The Wildlife Society is against TNR programs. I've been hearing about this for a long while—and not just from The Wildlife Society. Veterinarians, wildlife professionals, and many birders deeply dislike feral cats.
To tell you the truth, I didn't want to cover this point of view. I love all animals, and cats are at the top of my list. Still, I thought I should explore this fairly. I contacted The Wildlife Society and got quotes on why they are against TNR. Since this is a blog, I told my readers my side of the story. And because I love cats so much and disagree with The Wildlife Society's point of view, I ran a follow up—this time with quotes and data from Best Friends Animal Society and Alley Cat Allies supporting TNR.
As a journalist, I need to present well balanced stories. Since it's a blog, my opinions are often evident. Still, I think it is essential to get the entire picture. So, I e-mail contacts and call them too. I usually start out by coming up with a list of questions. That has always been easy for me; maybe because I can be nosey. If you have trouble doing this, go online and read other stories. Check out your favorite blogs and see if you can come up with a different angle on a story that you have enjoyed reading. Then ask yourself questions about the story. Is there more information that you would like to read? What questions are forming in your mind? Write them down.
Use the press releases; just don't run them word-for word. Write your list of question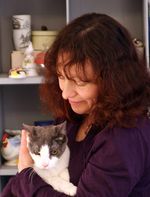 s. If you have trouble coming up with them, talk to a colleague or friend. It's easy to e-mail questions to the people you interview. This way they can write down their answers and send them back to you.
I always include, "Is there anything we didn't cover that you want to mention?" at the end of my list of questions. I also like the person-to-person interview. When you are talking to someone, other thoughts and comments come up. This always leads to more information that is not covered in a press release. Personal interviews also build stronger connections. Many of the folks I've interviewed read, subscribe and comment on my blog. 
  Michele C. Hollow is a journalist who writes the blog Pet News and Views. Her blog covers animal welfare, pet care, and profiles people who work with and on behalf of animals. She is also the author of "The Everything Guide to Working with Animals."