Guest post by Nikki Moustaki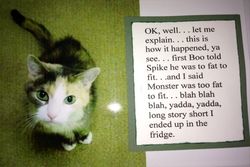 I
started The Pet Postcard Project in 2007 as a way to raise funds for a needy
shelter in Miami that I support. I soon realized that it would be easier to
raise food (and other stuff) for shelters by getting companies involved, so the
project has evolved into a successful "food-raiser." The Pet Postcard Project is a grassroots arts-and-crafts project aimed at raising food for
shelter pets and awareness about the plight of homeless animals. "Pet
Postcards" for this project are homemade and handmade postcards featuring people's own pets that they make and then snail mail into The Pet Postcard Project. Each
card they send earns food for shelter dogs and cats. So far, this project has
has received over 35,000 funny, weird, sad, cute, and profound cards, all
filled with love for a beloved pet, and all intended to help homeless animals. 
The project runs in two-month campaigns, where a food company pledges a certain
amount of food per postcard that comes in. I choose 2 rescues and create a
little bit of fun competition by giving the rescue who brings in the most cards
a little bit more food — but everyone gets food in the end, and everyone wins.
The current campaign, ending May 31st, is raising 30,000 meals of Halo Spot's
Stew from Freekibble.com for Rescue Ink in
New York and Kitty Cottage Adoption Center in Pennsylvania. So far, cards have
come in from people all over the country, creative cards from school groups and
Girl Scouts, to cat and dog lovers making cards at their kitchen tables with
just a photo and a pen. 
This
is a very fulfilling project because not only does it help rescues, it's also
fun to go to my mailbox each day and find little pieces of art! I'm happy to
team up with any bloggers who would like to be involved — you can choose a
shelter you like to receive the food, and have your dog or cat (or other
animal) as the spokesdog/cat for the campaign. The more the merrier! 
The postcards created at the BlogPaws 2013 conference will help raise meals for Rescue Ink and Kitty Cottage Adoption Center. Bring your photos and you can pick which shelter to submit your pet postcard for at the conference.
Please
check out the project at www.petpostcardproject.com