By Kristin Dewey – BlogPaws Special Projects Manager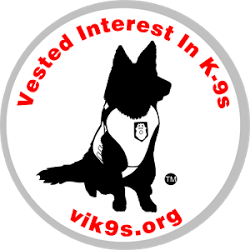 You may have recently seen an interesting Groupon
offer: Vested Interest in K9s, Inc., applied and was chosen as a national Groupon Grassroots campaign, which
has gotten them a huge amount of exposure and donations in the last few days
for their mission of supplying state of the art bullet- and stab-proof
protective vests to police dogs.



The campaign has featured the Massachusetts based non-profit since Christmas at no charge, suggesting people donate $10 – which goes
directly toward vests to help protect these amazing dogs that put their
lives on the line for their law enforcement partners and for the public safety.
The response from Groupon members and people seeing social
media posts on Facebook and Twitter has been tremendous. Perhaps it's the
spirit of the season, but in the first fifteen hours of the current campaign,
more than $15,000 had been donated – and the total as of this writing is $48,000. That's 47 vests!
I spoke with Vested Interest in
K9s' president Sandy Marcal this weekend, seen below with Officer Dwane Foisy and K9 Raimo wearing his protective vest.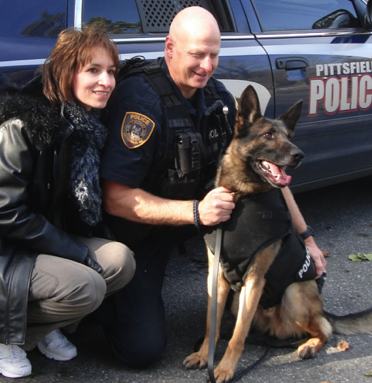 Sandy is a go-getter who obviously has no trouble making things
happen when she puts her mind to something – and her mind is on protecting
police dogs. Big time. She's an
accountant by trade and a protector of K9 protectors by… Well, I could just see
her in some kind of Super Hero outfit wearing a protective dog vest with her
hands on her hips and a red cape.
She explained that her organization is comprised entirely of
volunteers who recognize and get the word out that most police departments
don't have budgets for protective gear for their K9 members, and actively
fundraise to supply police dogs with high quality bullet- and stab-proof vests.
Vested Interest in K9s doesn't make the vests themselves, or
make any profit from them. They fundraise and make the necessary arrangements,
notifying officers on the waiting list that their dogs' vests have been funded,
getting the dogs' measurements to the U.S. manufacturer, sometimes arranging
custom embroidery on the vest on behalf of a donor (often in the name of a
beloved pet), coordinating ceremonies for the presentations of the vests to the
police dogs, etc.
The Vested Interest in K9s Groupon Grassroots campaign runs through this Wednesday,
January 9th, 2013, and they're making a big push here in the
home stretch to see how many more police dogs they can 'vest' in this drive.
Visit Vested Interest in K9's' Facebook Page to see photos of the dogs receiving vests in this fundraiser.
Learn how to apply for your own organization's Groupon Grassroots campaign here: Start Your Campaign.