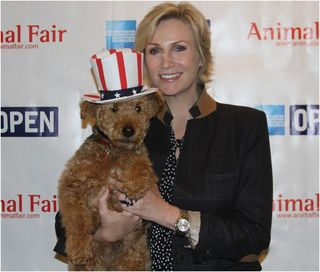 by: Carol Bryant
With the holidays upon us, the store shelves and websites will pop up with toys to tantalize and treats to make a dog's taste buds dance. If you are a loving pet parent, no doubt, you indulge your pets a little bit extra during the holidays. It's okay, many of us do the same thing.
There are some very actionable, doable things you can do to get involved and help make a difference for pets (and people) in need this holiday season.
We recently discovered that Wendy Diamond, emcee for our 2012 BlogPaws Nose-to-Nose Red Carpet Pet Blogger and Social Media awards, is rallying to help K9s for Warriors. As she prepares for the final stretch of this nationwide campaign, this is the kind of "Be the Change for Pets" inspiring story we like sharing with our readers.
What is K9s for Warriors?
The K9s for Warriors Program rescues dogs from shelters prior to being euthanized pairs them with a Veteran with PTSD based upon the special needs. In this valiant effort, the program costs approximately $10,000 to graduate one Veteran/canine pair.
Diamond created The Bark Business ten city national tour benefiting K9s For Warriors, celebrities that have lent their support include; Glee's Jane Lynch, NBC's Chicago Fire's Taylor Kinney, David Eigenberg, and Joe Minosa, Carrie Diaries' Anna Sophia Robb, Halo, Purely for Pets, co-owned by Ellen DeGeneres (who donated 2,000 pounds of dog food for all the K9s For Warriors service dogs), E! Television's Alicia Quarles, Showtime's Homeland's Amy Hargreaves, Los Angeles Lakers' Jeanie Buss and Phil Jackson, Rock Band – The Go-Gos, Fox's Raising Hope star Garret Dillahunt, Law and Order's Danny Pino, Supermodel Tyson Beckford, New Orleans Saints Coach Sean Payton and the most generous of business magnates joined the effort, Craigslist Founder Craig Newmark, Ingram Industries' John Ingram and many more…
So how did Wendy get involved and why?
When Craigslist Founder Craig Newmark told Wendy Diamond the alarming statistic that every hour a Veteran commits suicide, she made the decision to embark on a journey to help veterans suffering with PTSD and pair them with rescue service dogs.
Wendy Diamond has dedicated her new book, How To Train Your Boss to Roll Over, to all the veterans who work tirelessly defending our country. The book is an entertaining and instructional manual threaded with Wendy's trademark levity and wit that reinterprets successful dog-training strategies for the workplace. In lieu of book parties to announce the launch of her new book she decided to create the Bark Business Tour to raise funds for and celebrate the hardest working, bravest pioneering people in America – our Veterans.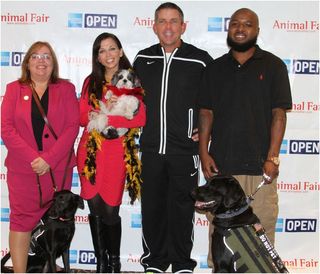 The Facts
Every 65 minutes a veteran commits suicide; most of them suffering from PTSD (Post Traumatic Stress Disorder). According to the Department of Veterans Affairs, 184 new cases are diagnosed daily. The K9s For Warriors rescues dogs from shelters prior to being euthanized and trains them to be service dogs for veterans with PTSD and Traumatic Brain Injury.  K9s For Warriors is 100% proven, transparent and successful!  94% of every dollar donated to K9s For Warriors goes directly to the Veteran & service dogs.  Only 6% is used on fundraising and overhead. Shari Duval, the Founder and Executive Director of K9s For Warriors doesn't take a salary.
How You Can Get Involved
As a supporter of K9s for Warriors and the Bark Business, you will be granted the invaluable gift of saving a Veteran and a dog in your city. By accepting this invitation to get involved with this inspirational event, you can donate $10, $50, $100, $500, $1,000 or sponsor a Veteran/Service Dog Team for $10,000 - any amount you can afford to help this foundation!  
As of this writing, through the Bark Business Breakfasts held at Omni and Loews pet-friendly hotels,  a grand total of over $200,534 has been raised so far!  That means a total of 40 lives save, with  20 Dogs and 20 Veterans with PTSD.  Get involved and check out K9s for Warriors to get involved.
Way to go Wendy and thanks to all who are supporting this valiant cause!
* All photos courtesy Wendy Diamond and Animal Fair