Post by Blog Manager Robbi Hess
The idea and the business of Wag Tags, Roger Dunkley said was there almost from birth but moved toward reality in 2013. "It took me most of a year to make this business a reality." His site went live on December 5, 2013 – a little later than he wanted, but still in time for Christmas. His idea was for pet owners to be able to order the Wag Tags for their own pets or to be able to offer it as a gift for a friend who could then add his or her own information about a pet.
As any pet owner will tell you, the idea of losing a dog – whether he runs out of an open door or gets loose from a backyard – is a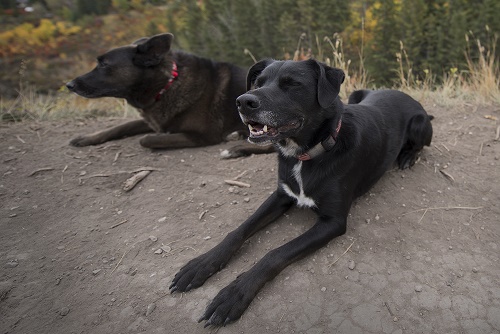 natural fear. One of the first people to have bought a Wag Tag wrote to Roger and told her, "Just wanted to let you know I received my dog tag this week and it's really awesome! Worked very well when he ran away this morning and someone picked him up and had both our cell numbers on it. Anyways, great product!" Getting your pet back is the ultimate goal of any tag or other means that a pet owner utilizes to keep her pet safe.
As a pet owner himself – Radar, a lab-looking dog and Nugget, a German Shepard-looking dog – Roger says he wanted to develop a product that he would use and that he knew would be helpful for pet owners. In describing his rescue dogs, Roger says that Radar is what he calls a "Labradeeler" – his mom was a Blue Heeler and his dad was the black lab that lived next door. "A labradeeler sounds like a fancy designer breed instead of a $125 rescue, which is what he really is."
As a business owner, Roger would certainly like to make a living from his passion, but he also founded his business on what he calls "compassionate capitalism." What it means to him is that the business is set up in such a way that it gives back to the community as much and as often as it can while still maintaining its sustainability and profitability. "The main way the business does this is through its Donation Matching Program (DMP) which results in Wag Tags donating up to 20% of the profits from the sale of a tag to a pet rescue or humane society if the customer opts in on the program and donates their share."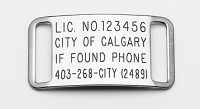 The business also gives back through its Underdogs Program where Roger places photos and descriptions of the most "down on their luck/hard luck story pets" that the rescues that he partners with have for adoption. "As a token of gratitude, we offer to give anyone who adopts a featured Underdog a free Wag Tag." He incentivizes the shelters to get involved by helping Wag Tags and in turn, Wag Tags helps the rescue. "It's a win-win for us, the shelters and the animals that find new homes."
The business is a labor of love for him as he maintains both it and a full time career as an environmental engineer. "My dream is to build the business to the point where I can do this full time, make a living from it and raise a decent amount of money for my partner rescues and humane societies." He says he envisions himself driving a company vehicle with the Wag Tag logo and going everywhere to market them – trade shows, pet rescue fundraisers and across the country. "Of course, I'd bring my dogs with me as often as I could – that sounds like a fun way to make a living to me," he said. I have to say, I agree!
He explains that his tags are superior to others because of their design, durability and function. "I think that most people looking to purchase ID tags for their cat or dog would chose Wag Tags over others if they are aware of the product," he says. "People really like the idea of the DMP and Underdogs and this helps generate goodwill because who wouldn't want to protect their own pet while being able to help others that may not have a loving home yet?" He wants to see the dogs on the Underdogs page get "snapped up and quickly adopted into great homes." He added it would be "awesome if the business could grow to the point where the DMP was able to provide enough money to the rescues to allow them to rescue and find homes for even more deserving Underdogs."
Roger understands the unconditional love that only a pet can provide and writes about it on his website: "It's a love affair that began at birth…Over the years dogs have given me unconditional love and have been a great source of joy, even when it seemed hard to find two legged friends…Whatever love I have shown a pet has been given back to me tenfold."
The story of unconditional love that Roger gives to dogs is telling when you read his story. He had been helping a friend rehabilitate two dogs that had been adopted when he was bitten in the face by one of them. Even though he faced numerous surgeries and recovery, he didn't let that color his feelings about, or love for, dogs. You can read his entire, inspirational story here.
To help him reach his goals, Roger asks that you please like the Wag Tags Facebook page and "tell all of your pet owning friends about it or consider purchasing a Wag Tag for your dogs and cats." You can also follow him on Twitter.