There are some individuals who toil behind the scenes to save animals. They see a pet in need, take it in and it snowballs from there. Thus was the case with Karina McDaniel, the owner of Silver Rescue in Nashville, Tennessee. "It all started," Karina said, "With a silver cat who showed up with two broken legs. He wasn't social but he wasn't
feral." This cat, who she named Silver, was the impetus to starting Silver Rescue. "It was all his 'fault,'" Karina said. The rescue was officially started in May, 2006 even though Karina had been involved with rescues since 1998.
During one of the lunches at the #BlogPaws conference in Nashville, Karina and her rescue (which boasts a staff of four!) were presented with 2,000 pounds of food from Hills® as part of its #FoodShelterLove program. The shelter goes through about 3,500 pounds a year so the donation will keep the pets fed for almost the rest of the year. "We're ecstatic," Karina said. "We were down to our last $18 dollars in our bank account and you can imagine how much it costs to buy food for all of the pets we care for." The rescue spends between $200 and $300 a month on litter and food. They care for between 30 and 50 animals at any given time.
Aubrey Watson, one of the shelter's three volunteers attended the luncheon with Karina. When asked why he was a volunteer with the organization he said, "I was there the day Alex showed up. Here was this huge dog approaching me. He came. We petted. He stayed." Alex was a pitbull, Aubrey said.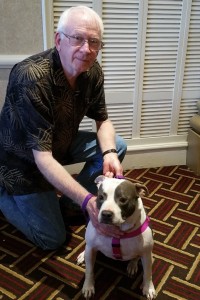 "Kitties and pitties are my passion," Karina shared. "I like to think we take in the unadoptable, the older pets, the almost feral and we then get them to the stage where they are adoptable."
They work to get "dogs trained to like cats" and "cats trained to like dogs" and then they "train the adopter" so that the matches are successful.
You can find Karina and the shelter at Silver Rescue and on Facebook at Silver Rescue.
(Karina is pictured with Sassy and Aubrey is pictured with Lily Belle)