Humane Society Silicon Valley's 12th Annual Walk 'n Wag Fundraising Efforts Are Underway  
Humane Society Silicon Valley (HSSV) announces its 12th Annual Walk 'n Wag fundraising efforts have begun. Participants can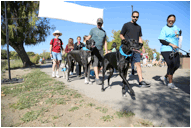 register and raise life-saving funds as an individual, start a team, or join a corporate team by visiting  HHSV.org/walk. This annual online fundraiser, benefits animals in need throughout Santa Clara County and beyond, culminates in a celebratory Walk and Run on Saturday, October 4t from 8am – 1pm at Hellyer County Park.
Along with two scenic walk routes, this year's event features a NEW 5K timed race and 4-legged runners are encouraged to participate! A fun-filled day for the entire family, Walk 'n Wag also includes a "Doggie Fun Zone" obstacle course, vendors, crafts for kids, a costume contest, food trucks and more!
Nearly 800 people and their furry friends attended last year's event, and raised $230,000 with which HSSV was able to continue on its mission, "To save and enhance lives." This year's goal is $400,000, but with the help of sponsors, which you can read about here HSSV is hopeful for another successful year.
About Humane Society Silicon Valley – Humane Society Silicon Valley is an independent, non-profit animal shelter that has been serving people and pets for over 80 years. In April 2009, we moved from Santa Clara to our new Animal Community Center in Milpitas, the first environmentally "green" certified animal facility in the country to offer an adoption program with a full spectrum of pet and community services. We also operate multiple Neighborhood Adoption Centers in PETCO in the El Paseo Shopping Center in San Jose and on El Camino Real in Sunnyvale. For more information, visit www.hssv.org. Be sure to follow Humane Society Silicon Valley on Facebook, Twitter, Pinterest and Instagram.