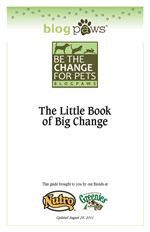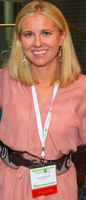 By Saturday afternoon, with Hurricane Irene passing by DC, the 2011 Be the Change for Pets speaker panel was at half it's number. But Dr. V (Jessica Vogelsang) and Dorian Wagner remained to provide full strength information and lead a lively discussion with the stalwart pet bloggers in attendance.
Now, even if you had to leave early or couldn't make it at all, you can access the learning, experience, and resources our Be the Change pioneers have collected into the BlogPaws Little Book of Big Change.
Download the BlogPaws Little Book Of Big Change (1.8 MB)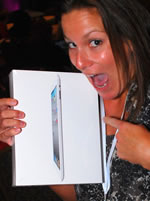 Dorian was rewarded for her tenacity, in the end. She was able to complete the AAHA Healthy Pet Scavenger Hunt held during the conference and then won the drawing for an iPad2 at the closing ceremonies.
Looks like she was glad she stayed! ;-D