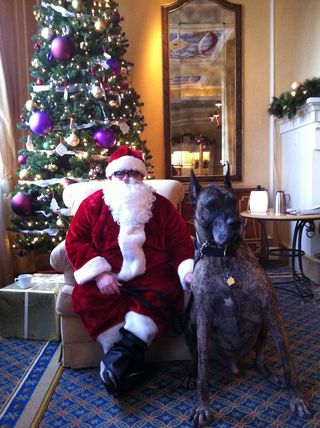 We just learned of a great way to help pets this holiday season with a charity promotion using Pinterest from our friends at The Anipal Times. (That's the AT's Editor in Chief, BlogPaws member Brutus the Dane with Santa.)
The promotion runs from Dec. 1-16, 2012, and this is how it works: You post a photo on Pinterest, with the hashtag #pinitforpetsmart in the photo description. For each photo, PetSmart and Fetch… for Pets! will donate $25 to PetSmart Charities to help homeless pets, up to $25,000.
To participate, post a link to your Pinterest pin onto PetSmart's Pin It For Pets Facebook page.
And here's Carol Bryant's recent post, Do You Have A Pinterest Account?, explaining why maybe you should, where BlogPaws members have been adding links to their own Pinterest accounts so we can all follow one another.  ; )