The term ROI (Return on Investment) gets thrown around a lot in a variety of contexts. It's important for bloggers to understand how brands are considering ROI when deciding which bloggers or social media influencers to work with and for bloggers to decide which projects are in their best interest.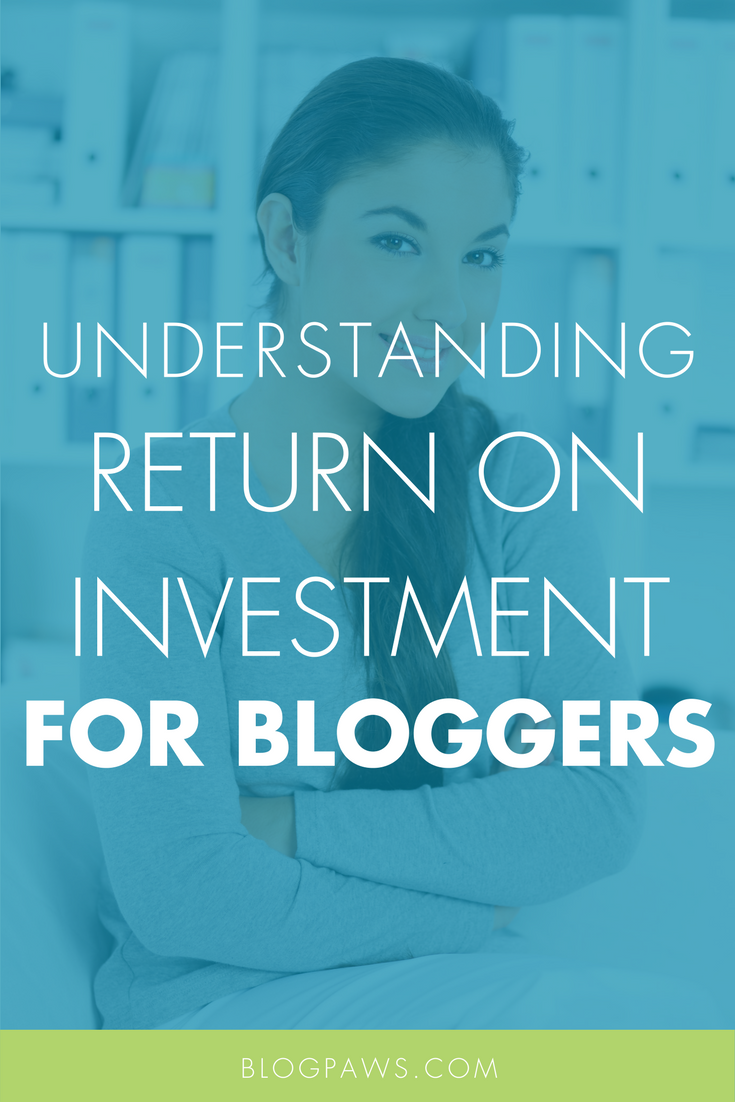 Brand Perspective
Returns on Investment for brands are straightforward. Brands are evaluating the value of their stake in you, the blogger. They interpret value in how many people you influence through your channels of communication, which is your potential reach. This is why brands often ask for information regarding the number of unique monthly pageviews on your blog and the number of people who have followed you on social platforms such as Twitter, Facebook, Instagram and Pinterest.
While the number of people you could potentially influence is important, the ratio of people exposed to your message to those who actually follow through and make a purchase decision based on the information you have provided is also a way brands are considering your value. If you have a smaller number of readers or followers but they are very engaged and have a high likelihood of deciding to try a product you've spoken positively about, brands may view that return as being more beneficial for them then a blogger who has a higher number of followers, but a smaller percentage of followers who act on the blogger's call to action.
A brand's "investment" is usually the value of the products they are providing along with the amount they have agreed to pay a blogger for their posts. Sometimes, the investment will also include the cost of boosting posts on social channels. When considering bloggers to work with, brands are evaluating if the cost of product or service and payment to a blogger will be greater or less than the amount of reach and degree of influence the blogger will have with their readers.
Returns can also be less concrete. For example, if a blogger's quality of photography is such that images can be used for future social campaigns (with the blogger's permission, and possibly payment made to the blogger for image use) that image quality may help add to the brand's interpretation of their investment value.
Blogger Perspective 
Sometimes it's a bit more difficult for bloggers to consider their own ROI when deciding whether or not to work with a particular brand. This difficulty normally stems from the blogger not considering some intangibles as "investments," and not considering "returns" beyond payment provided by a brand.
Examples of a blogger's "investment" can include: time, cost of equipment, cost of boosted social sharing, mileage (if applicable), and anything else that can cost a person time or money. Time is important, and sometimes not fully considered. The average amount of time it takes a blogger to draft a post can vary significantly. For me, it's about 6 hours, which includes time used for taking and editing photos and developing a social share campaign leading up to and following the post. That means, if my hourly rate is $25 and I am not including any other factor, my sponsored rate should be $150. That said, I've spent a lot of money on a high quality DSLR camera, editing equipment, and professional development to hone my skills. While I don't incorporate the entire value of these items in my rate calculation, I do include a proportion of it when calculating my rates.
A blogger's "return" on their investment of time can sometimes be something other than an overt payment for a post. For example, if the product given is a high value item, that the blogger would use regularly and increase their or their pet's quality of life, that may replace a paid fee (that's up to the blogger's discretion and their comfort level).
I know exposure can be frowned upon when brands claim that is a sufficient form of payment, but the brand's potential reach in sharing your blog or social channels could be impactful. For example, I agreed to work with a brand in exchange for product, and was not financially compensated. They paid for boosted posts of my content and also emailed their entire list of readers with a link to my blog. The number of views I got on my blog, and people who elected to join my mailing list was increased by 300% in a two day span. That boost in viewership has had a positive impact on my average pageviews ever since.
What Does this Mean for Bloggers?
It is important for bloggers to understand how a brand interprets ROI so they can articulate their value both in relation to their reach and their reader's engagement. This will help a brand understand the ways in which their investment in you will positively impact their brand and their featured product or service. Bloggers should use their own understanding of ROI so they can better share what they're posts are worth to brands so they are adequately compensated for their time and energy.
Bloggers can also use their understanding of Return on Investment to determine what their potential gains can be beyond financial compensation. It is up to them to determine if these intangibles are an adequate replacement for overt payment. Each blogger's interpretation of the value of their returns can and will vary.
Keeping an open and honest line of communication with a brand can help a blogger ask targeted questions. Knowing what a brand's expectations are, and how they are deciding which bloggers to work with can allow you to better determine if you are a good match for each other. Sharing what your expectations are when working with a brand can help that brand understand the value of including things like sharing your content with their followers in addition to payment to add value to your working relationship.
Bryn Nowell is a blogger who loves dogs and drinking equally, which is why her blog, adogwalksintoabar.com, focuses on both! She is a passionate photographer and animal rescue advocate. Join her photography adventures with pups Bean & Yoda on Instagram at: A Dog Walks Into A Bar. She will be speaking at BlogPaws 2017 about knowing your worth when working with brands. 
Image: Daniel_Dash/Shutterstock.com