One of the most important things a pet blogger can do is to pay attention to content scrapers and those that post your content on their site(s) without your explicit permission. Plagiarism is a very serious online problem. Thankfully, there are things you can do to protect yourself in the event of content scrapers. We will show you how to file a DMCA Complaint and more in this post.
The Digital Millennium Copyright Act (DMCA) and alerting Google can help. This is a step-by-step what to do, how to report it, and how to protect yourself from content scrapers and copycats: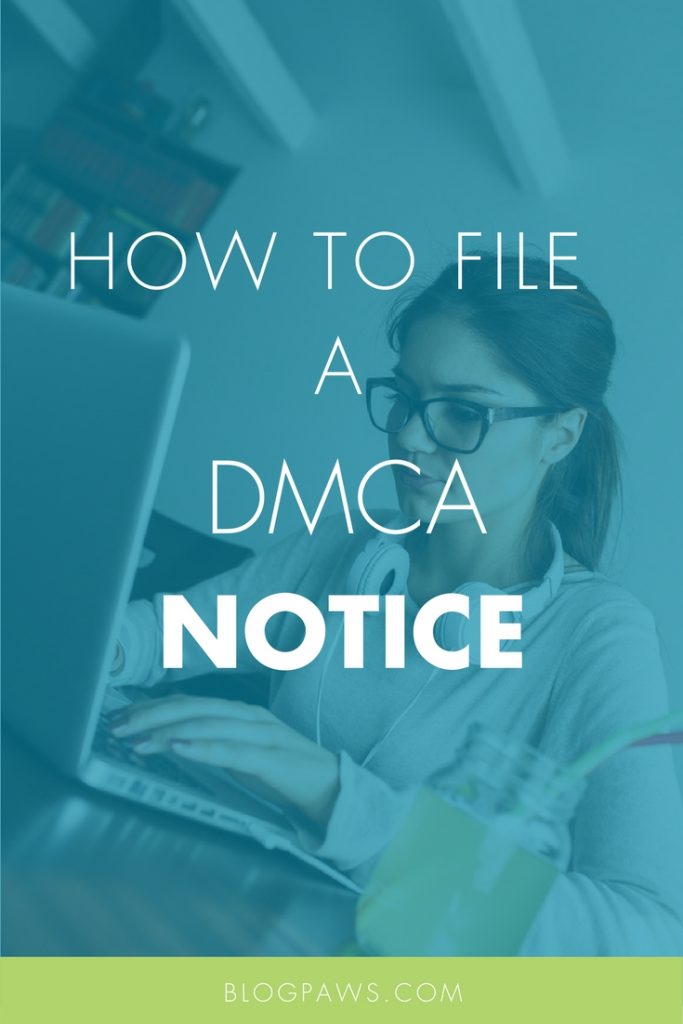 Copyright Infringement Act
Protect Your Blog Content With Terms of Use Disclaimers:  Every blog should have a terms of service/terms of use website policy outlining what visitors are allowed to and not allowed to do with the information on your website.
Here are some free Terms of Use templates and information.
Register Your Blog Posts
Some bloggers bundle a group of blog posts together and pay to register the content with the U.S. Copyright Office.
Without formal registration of your blog content/posts, you can file a DMCA notice, which this post outlines.
As a formal LLC, this blogger is going to start registering her posts in batches from time to time. As a result, I can take greater action, as copyright infringement is a serious crime with monetary rewards. Personally, I am sick and tired of having my blog posts stolen.
How to File a DMCA Notice
As the time of this writing, this blogger is in the process of filing a DMCA notice for takedown of her blog content, which a few unscrupulous bloggers are scraping from me.
Send a Cease and Desist Letter
This is the first step in alerting the party to remove your content immediately. I did this through an email, as found in the 'CONTACT US' section, but often times this information is not readily available.
Sometimes an RSS feed is attached to a website or blog and the offending party is pulling your content in this fashion. However it happens, the bottom line is this: The original content is yours. Send an email to the party to let them know they must remove the content immediately. Here's a sample:
Dear Sir or Madam-
 You are using my text and image content online without my permission. Remove all content immediately. You do not have my permission.
Your blog.com
I never heard back on the above, and I simultaneously filed a DMCA complaint and Google Takedown notice.
DMCA Takedown Notice
According to DMCA.com, "When content is removed from a website at the request of the owner of the content or the owner of the copyright of the content. It is a well-established, accepted, internet standard followed by website owners and internet service providers."
This notice is filed and the perpetrator is noticed that the content must be removed. Here is an example of what I am experiencing:
My original post: https://fidoseofreality.com/dog-thyroid-problem-dog-obesity/
The content scraper copycat posts: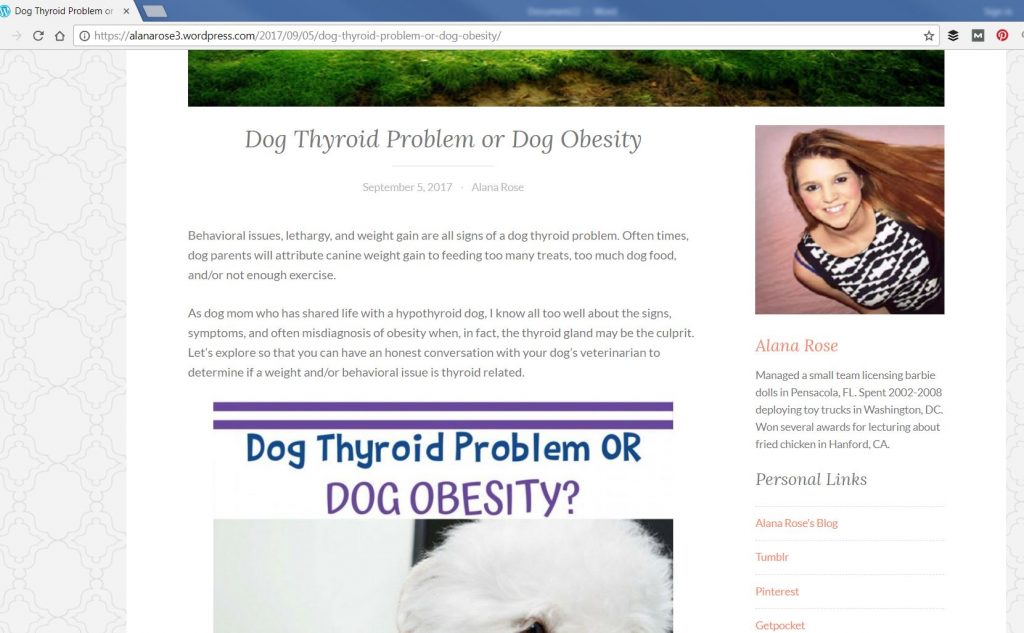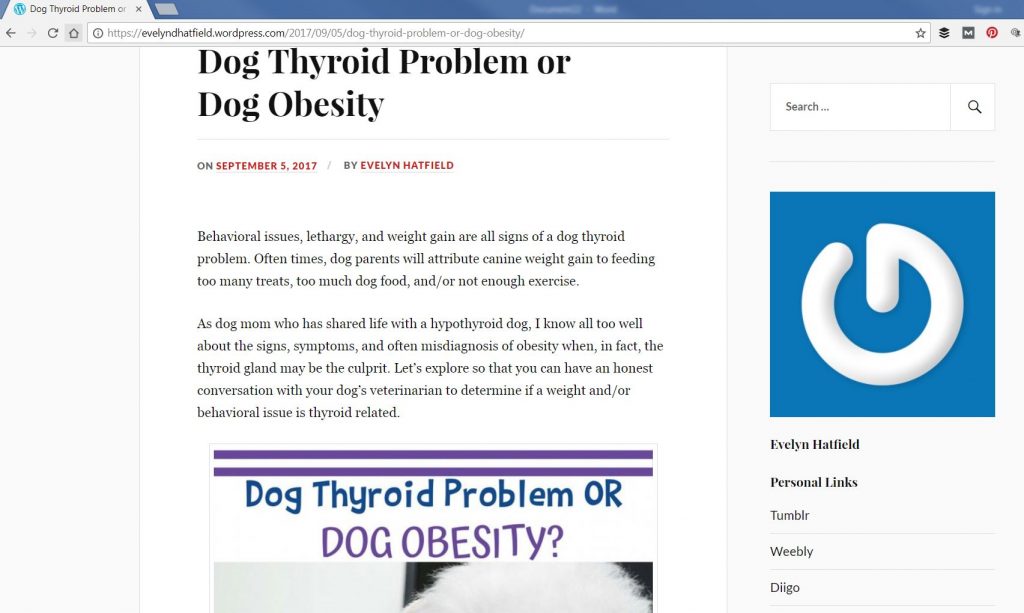 They are doing this for all of my posts.  I wrote them the above letter, sent it, then sent a cease and desist letter. Now I am filing a DMCA Takedown Notice.
Contact the Host Provider of the Copycat
Search the Whois site  or Who Is Hosting This and find out who the owner and/or host domain is. When you know the host, you can contact the owner or host directly, which is what I did. Here is that email. Each host provider has different ways of reporting this, and this example happens to be for HostGator:
You may need to file something else or you may need to email the host provider. Follow host instructions carefully.
I went to the WordPress domain to secure their process for filing a formal DMCA notice.  If you need to report more than one WordPress.com site, you must do so in separate reports.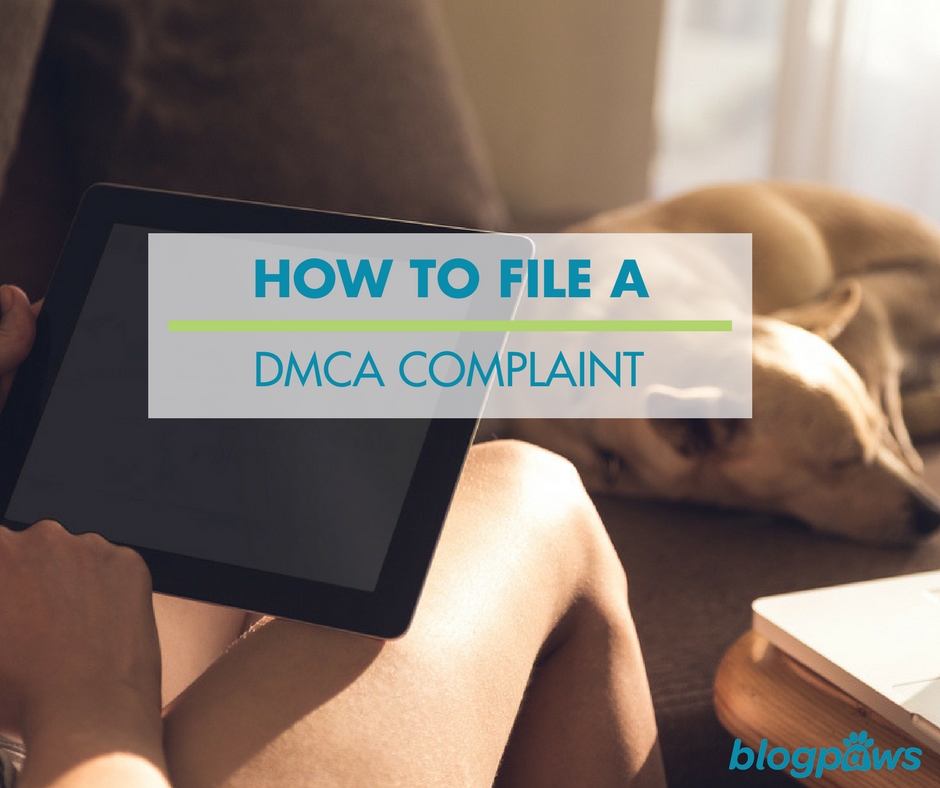 Alerting Google to Remove the Content
On their Legal Help Troubleshooter page, Google says, "This page will help you get to the right place to report content that you would like removed from Google's services under applicable laws. Providing us with complete information will help us investigate your inquiry."
Follow the instructions here to report it to Google. The tools appear in Webmaster Tools.  Here are some screen shots, and you can submit multiple requests in a group, as I did.
You can follow the status to Google through Google Webmaster tools.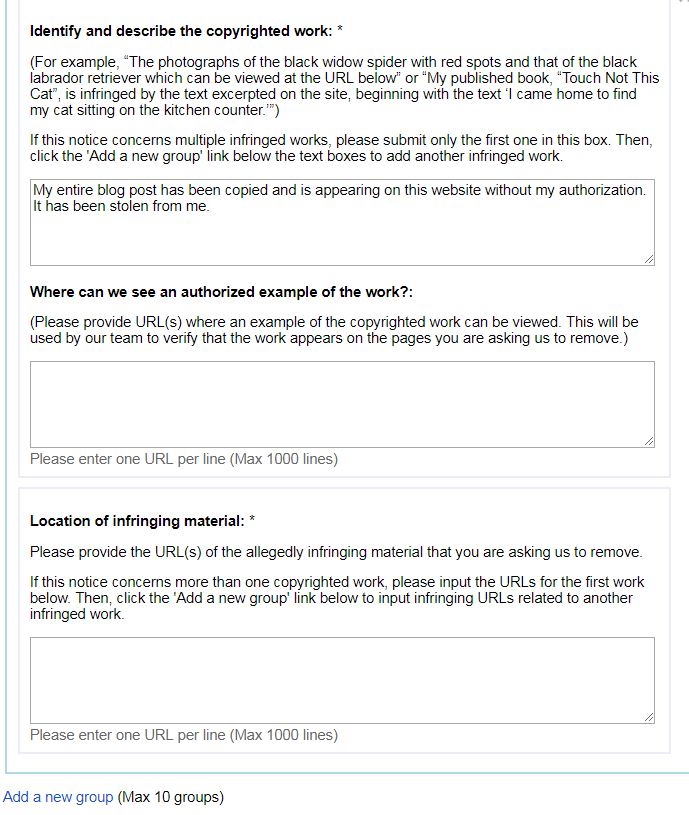 How Do I Know If My Blog Content Is Being Stolen
Pingbacks on your blog like this: (which is how I discovered the theft)
Google Alerts
Search for copies of your content on the Internet using Copyscape and Copyscape banners.

The above information is not legal advice and is being shared for educational purposes only.
Your Turn
Have you ever had your content stolen? What are you doing to protect your blog content? Share in the comments below.
The Wordless Wednesday Blog Hop
BlogPaws offers year-round interaction, activity, community and more to learn, earn, and connect. Visit and leave comments on other blogs to make some new buddies and maybe some new followers. You can add the button to your post and/or to your blog sidebar, either by cutting and pasting the image or using the HTML code below. Need help? Here it is:
How to Join a Blog Hop – BlogPaws Tutorial Video: Step by step help to get you started:
.

Images: Solis Images/Mallmo / Shutterstock