Guest post by Kristin Dewey
I recently had the pleasure of covering the first LA Feline Film Festival for BlogPaws on a beautiful and relatively cool day in Exposition Park, in front of the Los Angeles Memorial Coliseum. You may have seen my tweets from @BlogPawsKristin with the festival hashtag #LAFFF. Planet-friendly Organikat did a great job of hosting the all-day festival, which brought out 7000 cat lovers and cat celebrities, and culminated in a screening of the Walker Art Center's 3rd Annual Internet Cat Video Festival (#catvidfest). My boyfriend said it felt like a Renaissance Faire – for cats! Two LAPD officers staffing the event joked about their security detail – that they really had to watch these cat people because "they can get dangerous after dark."  ; )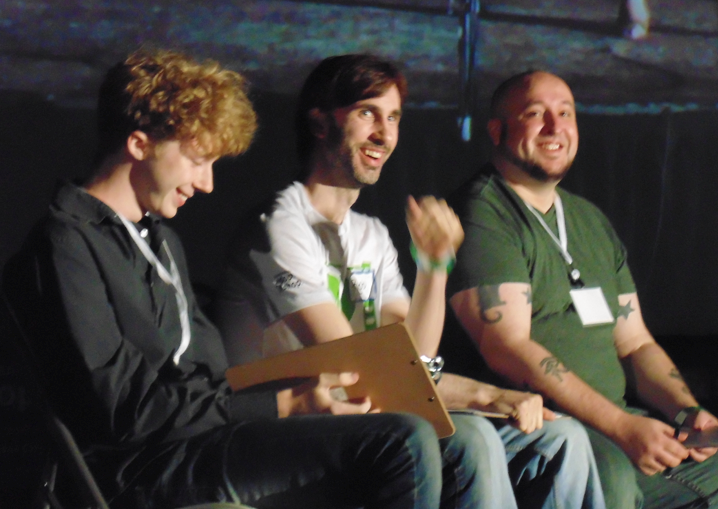 Dangerous after dark cat people: Actor Joey Luthman, #LAFFF volunteer Rob Pattison & Henri le Chat Noir creator Will Braden judging the cat costume contest.
Celebri-cats in attendance included Dusty the Klepto Kitty, the cat burglar who steals from the neighbors and brings home his loot on video, Aragon the Cat (aka Lord Tubbington from "Glee"), Tara the Hero Cat, whose YouTube video of her rescuing her human boy from a dog attack went viral this year, and, of course, Lil Bub.  Hauspanther's Kate Benjamin was at the awesome Pussy and Pooch booth, with a sneak peek of her new book, "Catification," co-written with Jackson Galaxy.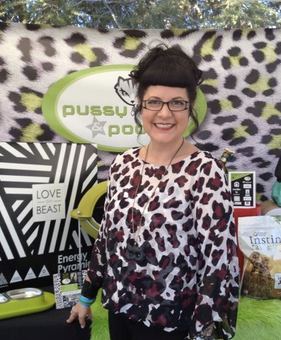 Hauspanther's Kate Benjamin, author of "Catification"
There were so many booths of fun stuff to buy, cat organizations and adoptable kitties, interesting cat health and welfare booths, I ended up making a lot of friends – and so many people were interested in talking about BlogPaws – time just got away from me. Somehow, I didn't make it to all of them!  There was also entertainment all day! I particularly liked Nylon Pink.
There were cat costumes, cat tattoos, and lots of real cats on leashes, in strollers and just riding on their humans' shoulders. Some cats were loving it, but some looked petrified; please read your cats' signals if you take them to an event – and take them straight home if they become uncomfortable!
The festival's main event, of course, was the screening of this year's Internet Cat Video Festival #catvidfest reel – put together by Will Braden, of Henri le Chat Noir fame – himself the winner of the first Golden Kitty (People's Choice) Award at the first #catvidfest at the Walker Art Center in Minneapolis in 2012 with Henri 2, Paw de Deux. Last year's winner was The Original Grumpy Cat Video.
After viewing hundreds of nominated videos, the field was narrowed to five finalists for the 2014 Golden Kitty award – the winner chosen by public voting on Twitter. The winner of the 2014 #catvidfest Golden Kitty award was,  "8 SIGNS OF ADDICTION" by Sho Ko (Shorty and Kodi)
You can watch this year's five Golden Kitty finalists on the Walker Center's 2014 #catvidfest Golden Kitty Voting Page (voting is obviously closed).
I loved "8 Signs of Addiction" and "An Engineer's Guide to Cats 2.0," and most of the other videos, but I must admit that my favorite video of the festival was an animated music video from Fox Animation Domination High-Def, called "Cat Song."
(Video: FOXADHD.com)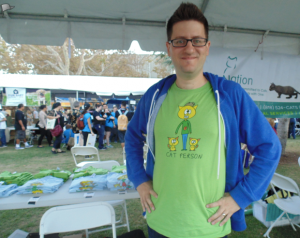 Steve from I Want To Draw A Cat for You (& Shark Tank!)
If you just can't get enough, you watch all 58 videos from the reel on the Walker Art Center's Youtube Playlist: #catvidfest 2014.
More than a dozen local cat sanctuaries and rescues received a portion of the proceeds from the festival and a lot of kitties were adopted, too!
Sponsors of this event included Found Animals Adopt & Shop, Hallmark Channel, Swheat Scoop, The Paw Project, Natural Balance Pet Foods, Animal Health Care Center, Pussy and Pooch, Animal Radio, Pioneer Pet, Square Cat Habitat and Modern Cat Magazine. It was super fun watching cat videos outdoors on an 80' screen on a beautiful night in the company of thousands of cat lovers who appreciate them every bit as much as you do. Keep your eyes open for a #CatVidFest near you!
Upcoming 2014 #CatVidFest Tour Dates: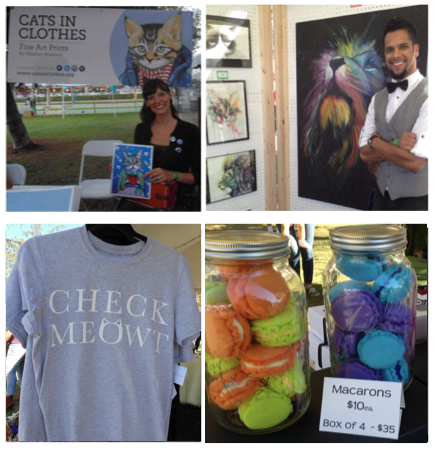 Sampling of some of the fun kitty vendors:
CatsinClothes.org, Thusart.com, PhraseologyLA.com & Whimsily Ever After
(All photos: Kristin Dewey – unless otherwise credited)