On a steamy fall night in 2012 in southern Louisiana, my husband sat in his apartment–he was on a research stint in the bayou while the dogs and I were in Indiana. Over the sounds of the TV show he watched on his laptop, he heard a faint mewing. He opened his door, and there she was: a tiny black kitten with bright green eyes.
To make a year-long story two sentences: He named her Newt, got her spayed, dewormed, vaccinated, and cleaned up with the intent of finding her a loving family, which he did. Ours.  
The problem? Our three dogs had never met a cat. So, when I arrived in the bayou later, we implemented The Cat Plan. It was a strategy built around months of research and interviews with trainers (ah, the perks of being a pet blogger!) and relied on the tenets of positive reinforcement.
Another long story in two sentences: Emmett, Cooper, and Newt got along perfectly in no time at all. Lucas, always my special guy, took six months of daily, controlled training along with a series of baby gates, strategically-placed treats, and supervised interactions before he and Newt got along, which they eventually did–Newt even stayed by his side during the final days of his cancer battle this past fall.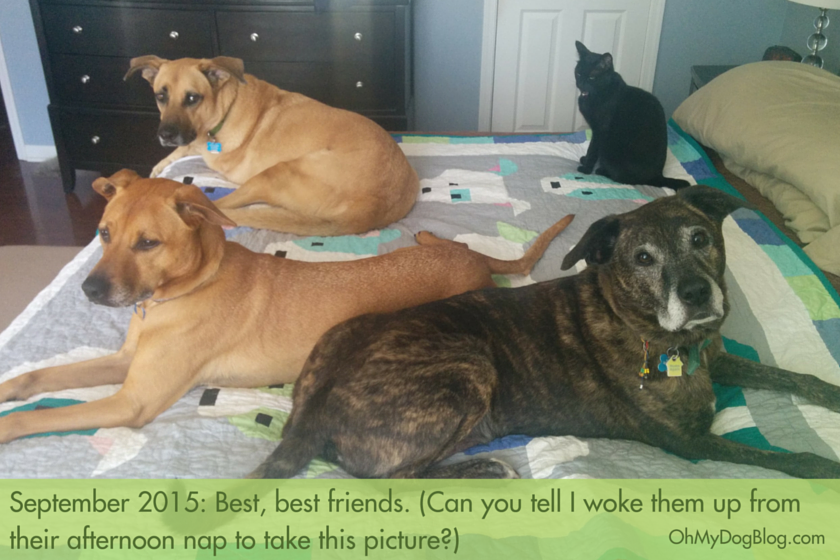 It wasn't easy. Some days were intense and stressful. But every second was worth it.
Those are the lengths that all of us pet bloggers are willing to go to in order to keep our pets happy and healthy, and to give them loving forever homes–whether that's in our house or as part of our volunteer efforts with community groups, shelters, and rescues.
We all, no matter what animal holds our heart, do this out of love.
We share a passion and a dedication to our animals that is unparalleled and, I hope, inspires our own communities to do better.
That said, I believe that within our own community, we all need to do better.
I attended my first BlogPaws in Ohio in 2010, and I'm not exaggerating when I say it changed my life. I went from being a "lifestyle" writer to a pet writer, and I haven't looked back. I met my dearest friends through BlogPaws and have gotten the opportunity to pour myself–heart, soul, and typewritten words–into the animal welfare causes closest to my heart.
So, of course I was thrilled when I was invited to join the BlogPaws team as Senior Editor. And in the nearly six months I've filled this role, I've learned so much more than I knew possible.
Almost all of it has been incredible. This community is filled with the kindest souls and the biggest hearts. Every day I wake up excited to get to work! How great is that?
But, unfortunately, another thing I've learned is that there's a perceived "us versus them" idea that divides the cat and dog communities. I didn't know it existed until I took this job, and I've been striving to ensure equal representation in the content we put out.
Of course, no one's perfect, and old habits can be tough to break… if you've typed "dog" 900 million times, getting your fingers to type "cat" takes an extra thought. It's my goal to provide that extra thought. Our contributors won't always be perfect. I won't always be perfect. I just ask that you feel empowered and open to send me an email (maggie@blogpaws.com) to discuss.
We want to foster the same kindhearted, openness that we apply to the animals we love to each other. That extends from the blog into social, too.
In light of that, I'd like to invite you all to "office hours." In this digital age, it's not easy to meet in person (though we will next month at BlogPaws! squee!) so I'm committing myself to being on Google+ to answer any Qs from you every Friday from noon to 2:00 Eastern. Why G+? It's the most open, public forum that all our community members can access whether they have accounts on other social channels or not!
We can discuss questions, concerns, requests for content on the blog or social, or just chit chat (I'm more than happy to share The Cat Plan for those of you who are trying to mesh multi-species households… or share strategies for keeping dogs out of litter boxes… or talk all things social media… anything). Totally open. I just ask that everyone stay kind and generous in their assumptions about fellow community members and remain open-hearted in the discussion.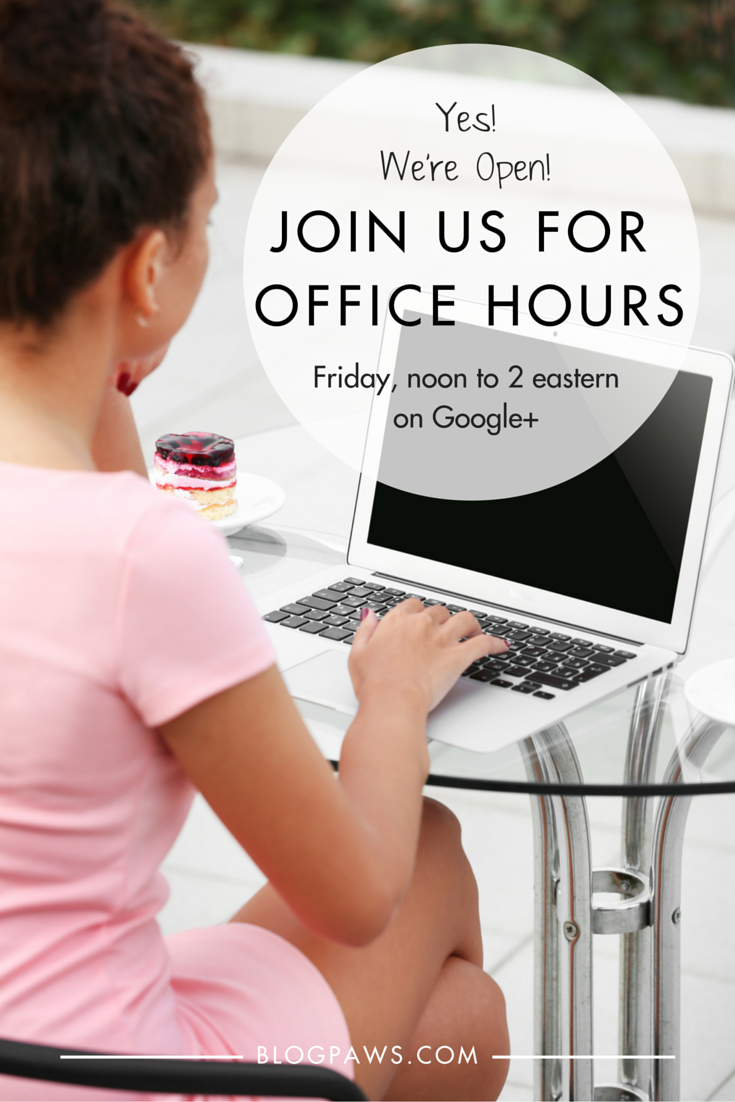 We are all in this together, and we should strive to help each other achieve greatness.
See you at noon, I hope! Here's that link to Google+ again!
Maggie Marton serves as the BlogPaws senior editor. When not hiking with her two pit mixes, Emmett and Cooper, or playing with Newt the Cat, Maggie writes about them (and the pet industry) at ohmydogblog.com and maggiemarton.com. 
Image: Africa Studio/Shutterstock.com