It's entirely possible to operate a business without ever having to leave your home. In fact, over the years as a freelancer, I met very few of my clients in person. And you can run a profitable blog from the comfort of your couch.
While it is possible to run your business without ever having to change out of those yoga pants, it might not be the most successful way to grow your online business. Here's why:
Putting a face to a name makes you more memorable to your clients or customers.

Brands or businesses are more likely to refer you to another potential client if they've met you face-to-face.

In-person interactions build that "know, like, and trust" relationship.

Meeting new people gives you a shot at expanding your client base.
Plus, an in-person meeting–even if it's brief–can improve communication throughout the life of that relationship. We've all been part of an email or instant message exchange that felt off somehow–perhaps it was difficult to read the person's tone or understand what they were truly trying to say. A benefit of having interacted with someone in person is a better understanding of how they think, speak, and operate. That results in smoother communication.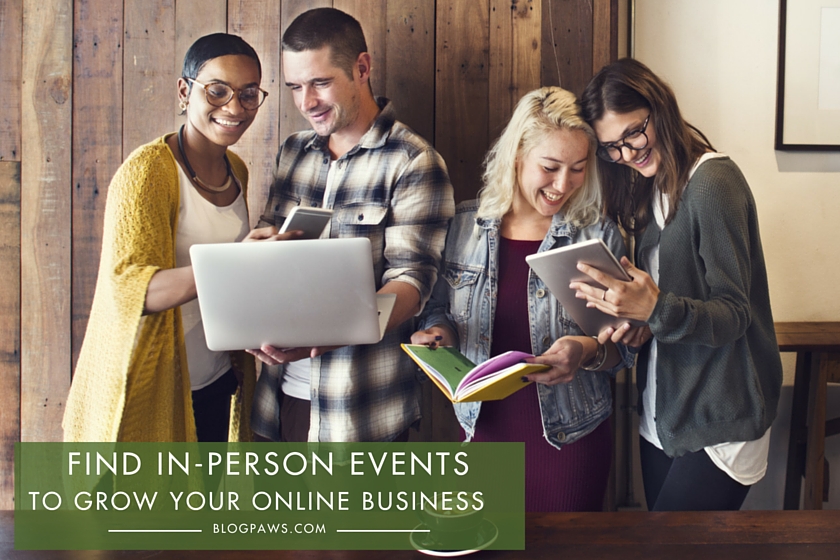 So, you're ready to get out there and network with potential clients and customers. Where do you start? Here are five (mostly free!) ways to find in-person interactions:
Meetup

: This online platform serves to organize get-togethers at a local level. You can find some that are business-specific (WordPress bloggers, for example) or a lifestyle meetup (cat moms coffee or a dog-walking club).

craigslist

: This online bulletin board offers local options. Choose your geographic region, then check out the links in the top left-hand nav filed under "community." Sure, there's some wonky stuff on craigslist, but ignore that and focus on the events and meetings that can further your career. And while you're there, take a peek at the "gigs" section in the bottom right-hand corner for potential portfolio-building projects.

Chamber of Commerce: This one usually requires a financial investment, so consider it carefully. Either joining the Chamber as a service provider or taking part a la carte in networking events can introduce you to your business community. One of the biggest benefits is expanding your referral network; Chamber of Commerce members love to refer one another to new opportunities.

Conferences: While BlogPaws 2016 is in the books,

2017 is around the corner

! Or, simply type what you're looking for into Google (for example, "blogging conferences in Indianapolis" or "social media conferences for dad bloggers"). Conferences combine learning with networking–a perfect growth opportunity!

Public library: Libraries host meetings, classes, and social events that hit on nearly every niche. Join a writing or photography group to network with other creatives, or take a coding class to learn how to improve your backend while meeting other bloggers in your area.
Can't find anything that speaks to you? Create something for yourself! Coordinate a group of bloggers in your area to get together for a monthly coffee date. Share experiences and tips, and help each other troubleshoot. As you get to know one another, you'll build up that referral network. Who knows: Maybe that car blogger knows a local pet product manufacturer who's been looking for a blogger to sponsor!
What activities do you do to network in person? Have you grown your blog or online business through in-person events? 
Maggie Marton serves as the BlogPaws senior editor. When not hiking with her two pit mixes, Emmett and Cooper, or playing with Newt the Cat, Maggie writes about them (and the pet industry) at ohmydogblog.com and maggiemarton.com. 
Images: Rawpixel.com/Shutterstock.com