Can it really be the passing of 2016 and the advent of a new year? With 2017 upon us, it is a good time to provide some insights, thoughts, and predictions as to where this ever-changing world of social media is headed in the coming year.
One thing is for certain: Changes in social media are constant and the more you embrace them and determine which platforms are right for you, the better off you'll be in the long run. A constant, however, is the same mantra we here at BlogPaws echo all year long. You do not need to be on every single social media platform. You should be on the social media platforms that make the most sense for you. If you aren't sure what social media platforms (i.e., Facebook/Twitter/Instagram/Pinterest, etc), then you need to have a social media plan.
CLICK HERE: Why Bloggers Need a Social Media Plan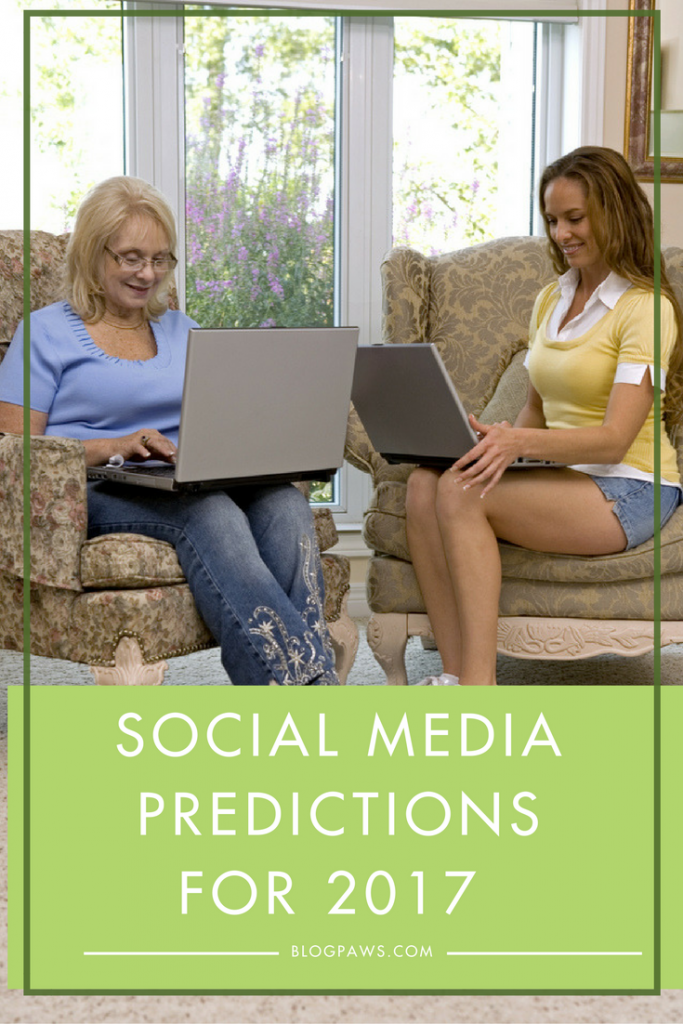 2017 Will Be the Year of Video
According to BlogPaws' Chief of Everything, Chloe DiVita, 2017 will be the year of video. Rather than tell you why, here's Chloe, in her own words, showing and speaking to you as to why:
Visuals as the New Norm
Who better than the BlogPaws Director of Community Influencer Marketing, Felissa Elfeinbein, to share her prediction that 2017 will be the year of the visual.
"Your images will help make or break whether a brand wants to work with you on a campaign," she says. "Invest time in figuring out how to create high quality bright images that highlight your pet."
Elfenbein says brands will be looking for online influencers that align with their branding and messaging. Take the time now to lock down who you are and what your blog and social media properties are all about. Learn more about the brands that you love and want to work with to see if the way you present yourself and topics you cover are in alignment with them. In 2017, they will be looking for true advocates for their brand.
Echoing the sentiments in the video above, she says not to forget live video. Facebook has been investing in promoting Facebook Live to the general population via commercials and ads on various sites. That means they want you to be creating live video content. Nervous?
We encourage you to take the Facebook Challenge in the BlogPaws Social Learning Community. Investing time in 2017 to create a regular schedule to go live on Facebook will mean big opportunities for your business.
CLICK HERE: BlogPaws Social Learning Community Facebook Video Challenge
Face-to-Face Is Important
Co-founder of BlogPaws, Yvonne DiVita, says that with the popularity of social media and online interaction, in 2017 we must continue to go face to face.
"For those of us creating business ventures out of our work online, especially our work in blogging and social media, I will say once again that face-to-face connections are everything," Divita admits."As we come together across great distances, making new friends and treasuring our old friends, our Twitter chatter, our blog posts, our Facebook likes, our Instagram and Pinterest shares, will all drive us to those friendly places we can meet and enjoy coffee, lunch, or a jaunt to the dog park.
She says we are social creatures, we humans. We crave the love and friendship of others. When our lives are touched by those cherished people, it becomes necessary to find ways to meet them IRL. It's truly all about stories… and the stories we tell – whether about us or our fur-kids – are ultimately designed to live beyond our blogs and social channels. As we hunger for connection, our stories hunger for attention.
"I challenge all of you to make those IRL (in real life) connections in 2017. Your heart is begging you to do so. See you in Myrtle Beach."
Web Design Trends
What we put into a website is extremely important, so having a website that reflects you as a brand, the way you want to truly be known, is incredibly important as well.
Over at Flipboard, they are discussing 10 website design trends we can expect to see in 2017.
Most notably, they say, "In 2017, websites are likely to start moving back to basics and placing more emphasis on content. "
Hallejuah! Despite how pretty, streamlined, and aesthetically pleasing your site looks, no one is sticking around for less than stellar content.
Read Flipboard's web design trends for 2017.
CLICK THIS: The Ultimate List of Pet Blog Content Ideas

Instagram or Snapchat?
Over at Inc.com, they predict that Instagram and Snapchat will each forge a space of their own.
"I struggle to see the benefit of being on both platforms. The similarities make it hard to justify — especially considering how closed of a network Snapchat is. Hopefully Snapchat can continue finding new ways to reinvent itself so that it doesn't feel like an "indie" version of Instagram," is a direct quote from Inc.com.
For this social media manager, I predict that Instagram will take the lead. Consider this: In 2012, Mark Zuckerberg of Facebook fame, shelled out $1 billion for Instagram. At that time, Instagram had 30 million users and 13 employees. Fast forward to today, and Instagram has over 500 million users.
In 2016, we saw the launch of Instagram stories, compared to Snapchat's similar feature, except that Instagram's photos and videos will vanish after 24 hours.
Did you know that Instagram Stories allows you to tag people in updates, add a link to your content (useful for brands directing people to their site), and it even supports the Boomerang app?! Pretty robust, right?
Instagram Business Tools allows accounts to be verified as a business account for the first time, and this feature rolled out in 2016.
Lest we forget LIVE VIDEO. The biggest and latest Instagram feature, however, is in live video. I did try it, it is awesome, and it does disappear as soon as you finish, at least for now.
CLICK HERE: How Bloggers Can Use Instagram Stories
So yes, 2017 is the year of Instagram.
The Return of Email Marketing
I am being extra bold here and going out on a limb, but I predict that email marketing will take the lead and being a dominant player in the online space once again in 2017.
What if a social media platform disappeared in 2017 that at present you have a pretty strong following on? Say that social media platform decided to delete your account?! Then what?! It happens more than you would imagine, so what would you do to stay connected with your followers and fan base?
2017 is the year to build a solid email database. This is your core following, the folks you know want to engage with you, receive your content, and will return time and again. You control this list, and it is yours to keep. The same cannot be said for a social media platform.
If you are a blogger, be self-hosted. You need to be the master of your domain, plain and simple.
Need help growing an email list?
CLICK HERE: Expert Tips to Grow an Email List
We have zero resolutions for the coming year. Instead, we have plans and will be sticking to them. We encourage you to do the same and commit to a social media plan for 2017 that will have you achieving your goals day after day, week after week, and 12 months later, you will be celebrating a year of success and goals achieved!
What predictions do you have for social media in 2017? Did any of the above surprise you? Weigh in with us in the comments below.

Carol Bryant is the Marketing and Social Media Manager for BlogPaws and runs her own blog, Fidose of Reality and its fundraising arm, Wigglebutt Warriors. When not busy playing with her Cocker Spaniel, Dexter, she stays far away from cooking. Her trademark is her mantra and is tattooed on her arm: My Heart Beats Dog.®
Images: Zdenka Darula Happy monkey and /Shutterstock.com