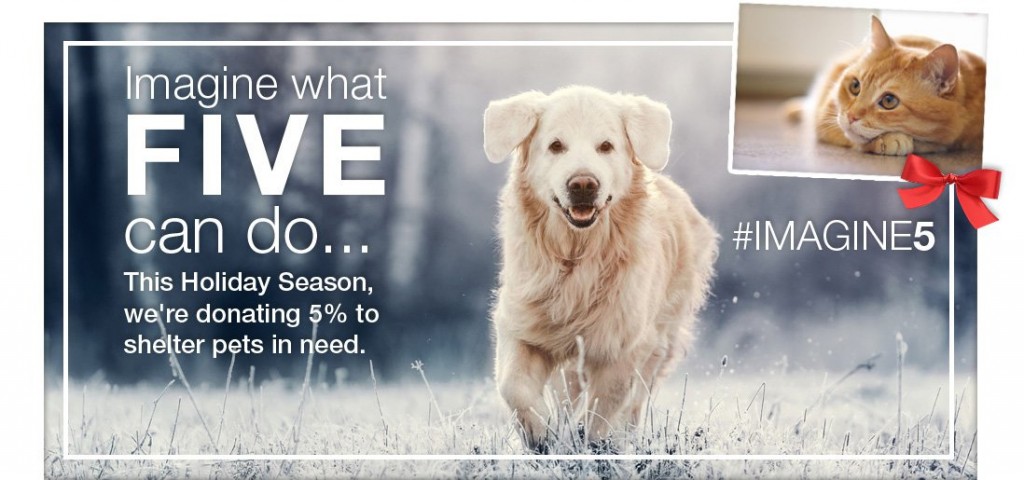 'Tis the time for giving. Thanksgiving is a time to reflect, pay it forward, give back, and most of all: Adopt an attitude of gratitude for that which we have. It is in this spirit of giving that BlogPaws proudly announces a partnership of giving. In the spirit of giving and gifting, BlogPaws Be the Change for Pets, in conjunction with Only Natural Pet (ONP), have teamed up to pay it forward for homeless pets AND to help you save money this holiday shopping season with #IMAGINE5.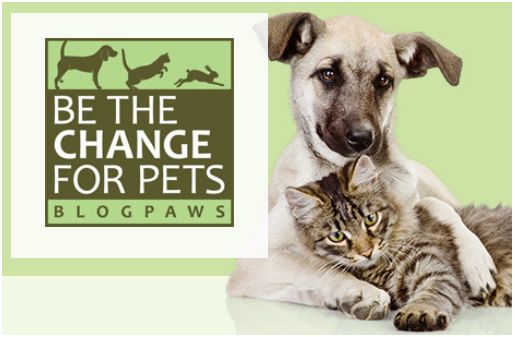 Here's the scoop:
This holiday season will be much brighter for the 7.6 million pets that enter shelters across the United States every year. Only Natural Pet is partnering with BlogPaws Be the Change for Pets to donate 5 percent of all purchases to help pets in need through December 31st.
The statistics are staggering: Pet parents in the United States spend $50 billion dollars a year on pets, with $5 billion being spent on holiday gifts for their pets. With every order placed through December 31, 2015 on the Only Natural Pet website using Coupon Code: IMAGINE5, not only will 5% of the purchase value be donated to pets in need through BlogPaws Be the Change for Pets, but all customers will receive 5% off their total order.
#IMAGINE5 shows the ONP dedication to pets in need!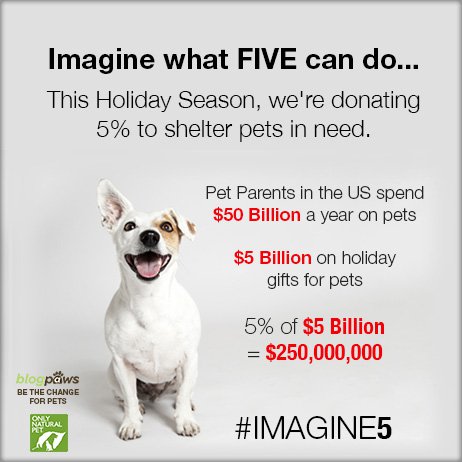 Paw it Forward
JOIN US in sharing the #IMAGINE5 message – on Facebook, Twitter, Instagram, or over a cup of eggnog at a holiday party. And if you place an order at onlynaturalpet.com between now and December 31st, don't forget to use coupon code IMAGINE5. We'll donate 5% of your purchase value, and you receive 5% off your order!
"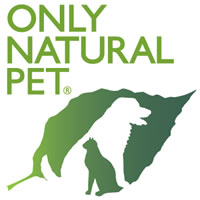 BlogPaws Be the Change for Pets is delighted to be working with Only Natural Pet on this special during the most giving time of the year. It's sure to help hundreds, if not thousands, of animals in need this year and next year," says BlogPaws Co-Founder and President, Yvonne DiVita.
Who is Only Natural Pet?
Founded in Boulder, Colorado, in 2004, Only Natural Pet has spent the past 10 years finding innovative, cutting-edge holistic health solutions for dogs and cats and has become a leader in the natural pet products industry. The company operates an e-commerce site, retail store, and catalog business that offers more than 3,900 products from leading manufacturers in the natural, organic, and eco-friendly pet supply market. Only Natural Pet produces more than 500 of its own highly popular Only Natural Pet branded products, including food, vitamins, supplements, and flea prevention and treatment.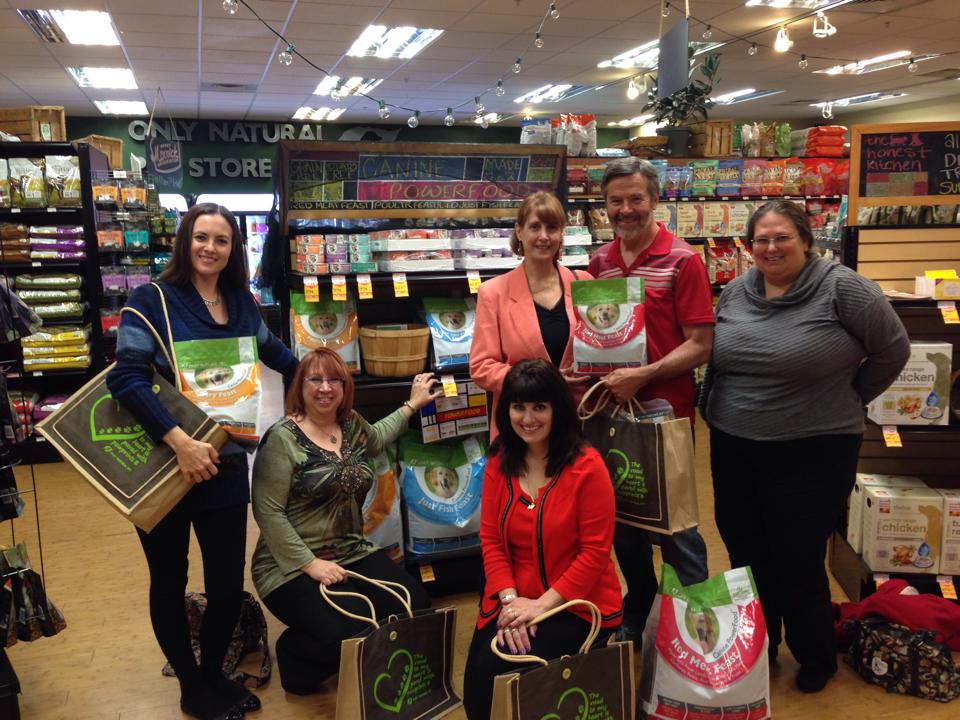 What is BlogPaws Be the Change?
Since 2010, BlogPaws and the Be the Change For Pets channel have donated over $100,000 in goods and services to qualifying 501(c)3 organizations dedicated to helping pets in need. BlogPaws, a pet blogger community and social media company, believes all animals deserve to be treated with love and respect.
If you've been at any of the conferences since 2010 (our 8th is approaching!), then you know that the BlogPaws Be the Change for Pets mantra is very much alive and well.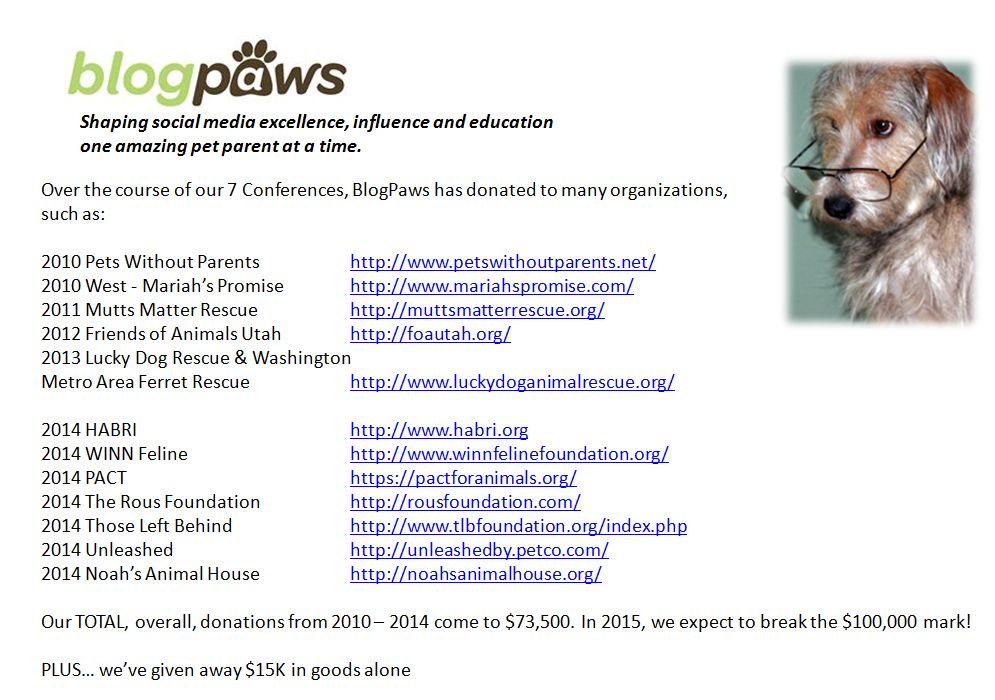 Need Some Ins-paw-ration?
Here are a few Tweets you can copy and paste into your Twitter feed:
RT to help homeless pets with @OnlyNaturalPet and @BlogPaws #IMAGINE5 http://blogp.ws/1XmP8ar
Help homeless pets this holiday season and save money with #IMAGINE5 http://blogp.ws/1XmP8ar
—or just tweet below—
RT to help homeless pets with @OnlyNaturalPet and @BlogPaws#IMAGINE5https://t.co/YVif2okCkv

— Blogpaws Team (@BlogPaws) November 24, 2015
For complete details, visit http://www.onlynaturalpet.com/companyinfo/imagine5.aspx