It's October and that means BlogPaws is celebrating Adopt a Shelter Pet Month all throughout October. We encourage the adoption of pets of all shapes, sizes, ages, and species.
Adoption has so many benefits, and pet lovers know this, especially if that pet came from a shelter or rescue. Every year, there are millions of pets in shelters who wait for a forever home. If each person reading this knows of a pet (or more) who needs a home and shared that pet, perhaps we can help them all get forever happy homes.
In honor of pet adoption and to encourage folks to adopt a shelter pet, join the blog hop below and post a link to a blog post featuring a pet that needs a home. You can post as many photos as you want! Hop a lot and then share the thread to help everyone get the word out about their pets!
Here's a badge you are free to use: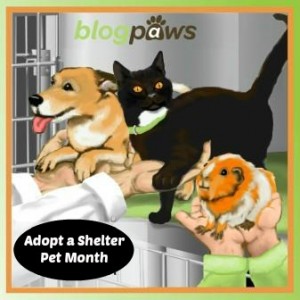 How to Join a Blog Hop – BlogPaws Tutorial Video: Step by step help to get you started:
.
Need more help? Here it is: How to Join a Blog Hop – BlogPaws Tutorial
Oh and PS if you aren't already a member, there's no better time to join the BlogPawsOnline Community!
And here's an infographic that is worth sharing and using: