BlogPaws is pleased to announce our outstanding lineup of session speakers, table topic presenters, and the all-new one-on-one sessions with the expert of your choice.
The BlogPaws 2015 Conference takes place May 28-30, 2015, in the heart of Nashville, Tennessee, at the Sheraton City Music Hotel.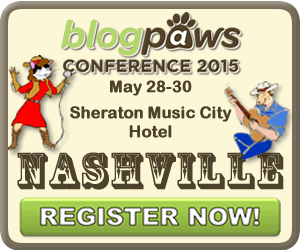 Our keynote speakers can be found by visiting the BlogPaws 2015 Keynote Speakers page here.
BlogPaws Conference tickets are on sale now, with hotel reservations open. Go face-to-face and nose-to-nose with some of the most influential experts in the social media space, including:

Deb Barnes: Deborah Barnes is the author of The Chronicles of Zee & Zoey – A Journey of the Extraordinarily Ordinary, starring her feline family as well as the award winning blog, Zee & Zoey's Chronicle Connection, that covers the everyday journey she shares with her cats (including newest additions – rescue kittens Kizmet and Jazmine) as well as topics from the humorous behaviors of cats to very serious subjects on pet responsibility. Her current circle of works has brought her to where she is today – a contributing writer for Catster.com and Cat Fancy Magazine as well as Secretary of the nonprofit, Pawsitively Humane, Inc. of Miami, Florida.  Connect with Deb through her Zee & Zoey blog.
Deb's session: Deb is part of the Cat Writer's Association (CWA), writing track, Bridging Journalistic Excellence and Blogging, with Layla Morgan Wilde, Janiss Garza, and Alana Grelyak.