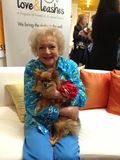 by: Carol Bryant
How often have we been told that 40 is the new 20 or that 60 is the new
40? With all of the advances in nutrition, supplementation, veterinary
medicine and, of course, the human-animal bond—10 certainly has become
the new 5 in the dog and cat world.
That's not to exclude ferrets and rabbits and birds and horses and the pets you call family members. The bottom line is: We don't stop playing because we grow old, we grow old because we stop playing. As pet bloggers and microbloggers, your golden oldie, aging feline, and mature ferret are all a marketplace for an ever-growing assortment of clients. Consider this:
I've heard pet parents say, "I can't play with my dog any longer, he has
arthritis" or "I want to play with my dog, but he's old and can't last
long." My advice? Make do with what you have! Ease a dog into swimming,
do slow walks around the neighborhood, join a dog (or other pet) lovers group where
fellow seniors can mingle. Whatever the case, growing old is a mindset.
Yes, we should always take precautions when a dog is older but never
should we simply "give up" or "stop playing." Modify the methods but
keep the dog moving in some way, shape, or do-able form. A bored dog
will get used to a boring lifestyle, after all.
If you've
been to BlogPaws, you know the energy, enthusiasm,
networking, idea exchange and layers of relationships that are formed.
The American Pet Products Association's National Pet Owner Survey for
2011-2012 revealed that in the past 10 years, use of the Internet has
more than doubled as a pet care information provider. Pet bloggers are
influencing people. We are force with which to be reckoned. 
And our senior pets are a large part of the target market.
As with its human counterpart, advances have been made so our pets can live longer, healthier lives.  Are you noticing more services and products geared at the senior pet? Supplements, additives in pet foods, mobility products, age-specific diets, safety devices, and the list goes on. I know when my Brandy, a Cocker Spaniel, started to slow down a bit in mobility, the only thing that changed was the means by which we transported her: A doggy buggy fit the bill.
Non-Tangibles
Products aside, how about pet health insurance, long-term care options, pets being written into wills, senior-specific veterinary specialists, and long-term care options. The pharmaceutical and nutraceutical business is soaring in the senior pet market. We love our pets, we want them to live as long as possible, and businesses are looking to pet bloggers and microbloggerswho influence pet parents.
According to AVMA's U.S. Pet Ownership & Demographics Sourcebook, pet ownership was up in 2012, especially among people who were divorced, widowed
or separated. This group saw a 17.7 percent increase from 51.3 percent
pet ownership in 2006 to 60.4 percent in 2011. Even more impressive, pet
ownership among single men increased by 27.7 percent. Many pets are from shelters and many are not puppies or kittens, so the population of older pets is definitely on the increase.
What's It All Mean to You
BlogPaws has designated August as its Senior Pets Celebration. We applaud older pets, and we applaud those who have earned the love of an elderly pet. We rejoice and celebrate with you.
Stay tuned throughout the month of August as we
celebrate All Things Senior Pets on #BlogPawsChat, photo contest and
blog hop for prizes, and tips and posts throughout the month. We welcome
our BlogPaws Community members to post their tips and photos, too. We
love all pets, and this month we're giving Senior Pets some well-earned
and well-deserved extra TLC.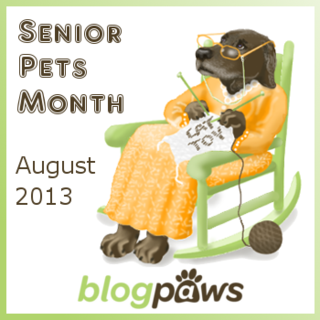 Do you blog about senior pet topics? Have a senior pet? Celebrate with a senior? We're all ears…