by guest blogger, Aime Gertsch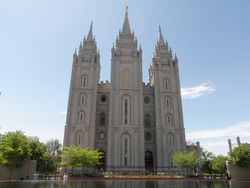 Are you counting down the days until BlogPaws 2012? We sure are! We can't wait for June to share some of Salt Lake City with you, so here is just a little taste of what you can expect to see downtown.
City Creek Center is a must see, even if you aren't interested in shopping at Tiffany's and other high end shops, or eating at The Cheesecake Factory, the building alone is an amazing space to hang out with friends. You can sit back and enjoy the fountain show, or walk along the creek that runs down the shopping center.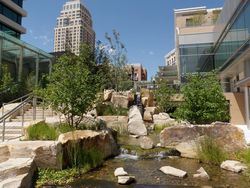 Or maybe you would rather enjoy the sky walk, where you can sit and look all the way down Main Street. And don't worry about weather, the place has a retractable roof for rainy or snowy days.Temple Square in the summer is beautiful, with gardens full of flowers and fountains to sit and relax by. Our favorite place is the infinity pool (seen in the photo here), with the majestic temple in the background. It's amazing to think of how the pioneers constructed this building from granite, which took 40 years to complete!
While you are visiting Temple Square you can find out more about your ancestry with a visit to the Family History Library or take in a Mormon Tabernacle Choir recital. Of course if you get hungry be sure to visit the Lion House (best rolls ever) or The Roof (truly amazing views of the city).
To learn more and for hours of operation click here. Trax lines run all throughout downtown, or if you bring a car you can park at City Creek and enjoy walking around both Temple Square and City Creek without having to drive again. Not all shops are open on Sunday, so plan accordingly, and not all spaces are pet friendly. However, City Creek provides waste bags for dogs, in what have to be some of the cutest dispensers I have ever seen!
We can't wait to see you in June!