Post by Blog Manager Robbi Hess
We're heavily into our month of promoting the idea of adopting a cat or kitten from your local shelter.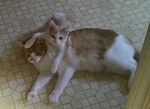 This time of year — actually most times of the year — shelters are overrun with adoptable pets (not just cats) and if your family is in contemplating adding to your family with a furry family member, we urge you to check out your local shelter and adopt a fur-baby from there. 
As part of our month long celebration of kittens and cats, we continue to offer prizes that have been generously donated by BlogPaws Community Members that have partnered with us to spread the word. This week we would like to highlight the following individuals and thank them for their generous donations:
BlogPaws is also hosting its first-ever Community-only photo contest in celebration of our theme. It's easy to enter and easy to win! Check back to our blog and in the Community for how you can enter to win the prizes! Connect with us on Twitter and Facebook. 
(photo note: Last week I featured my adopted kitty, Lucy. This week is a picture of two more of our adoptees — Parker and Clyde the Kitten) Have you adopted a kitty? We'd love to hear about it!