Guest post by Blog Manager Robbi Hess
What's all the barking, meowing, and cackling about? It's about social media and the need for you to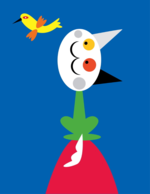 jump right into the fray and get your voice heard! The New Year is still young. What are you waiting for?! 
Here are my top ten tips to get you started:
Buddy up. Do you have a pet blogging friend that you admire? Ask him or her for their best practices and tips. Learn from the best in your social circle! 
Build your pack by connecting with fellow pet lovers and friends and colleagues. Are you particular to a certain breed? Like or follow a page about that breed. Sign up for Facebook, LinkedIn, Google+, the BlogPaws Community. Get involved! 
 Blog. Blog. Blog. Write creative posts. Put together a video. Put some pictures in your posts. Make your blog exciting. 
Do you have a sense of humor? Share it in words or pictures. Who doesn't love to laugh? 
What do you love most about your pet? Blog about that. Your love will show through. 
Something interesting going on in your life? Is your pet celebrating a birthday? Anniversary? Will you be speaking or going to a Meet-up? Blog about it! 
Don't forget to Tweet interesting information! 
 Become friendly with those you follow and like on your social media platforms, will garner you more followers and likers! 
Don't over-blog, flood your Facebook
page or tweet non-events every hour. One or two good updates per day are ideal.
Read up — or follow — social media mavens that you love and try to emulate them! 
If you have a product or service to sell, consider using advertising or sponsors on your site to grow your readership. 
What else can you think of that you can to do make 2013 the best year ever for your blogging? (Oh, that reminds me… don't forget to sign up for BlogPaws 2013!)