How to get traditional media to notice you and your pet blog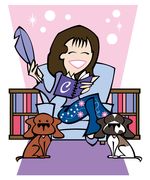 By: Carol Bryant, Social Media & PR Director FIDO Friendly magazine
I gave a seminar at BlogPaws Denver on this topic and am happy to present a fresh, expanded version with comrade-in-arms and fellow magazine guru, Ryan Rice, at BlogPaws Virginia in August.
It all starts with a pitch letter. A pitch letter to a magazine editor is very similar to a blog post—a letter personally written to individual journalists, writers, or editors (and more recently website owners and bloggers) that promotes a specific story idea to them for coverage.
An initial perception was that magazines are dying or will soon go the way of the dinosaur. Not so; as we've seen, the magazine evolves. The shape it will take may change, but people will always want to curl up with a good read, page through and catch up on their favorite topics, whether that be in print, Tablet, Smartphone or internet browser.

A blog is a personal online journal. Do you ever share an opinion with your audience? This tone suits itself perfectly to an op-ed column (opinion editorial) in a newspaper. Do you like to write product reviews? Report the facts or uncover a story perhaps no one else has scooped? Weekly and monthly magazines love these sorts of feature stories.
Not sure how to get started with pitching a magazine? The key is short and sweet. Some key points:
✱ Don't ramble, share your life story or why you are so qualified.
✱ An average time spent reading a query is less than 60 seconds. Something you put blood, sweat, and tears researching is skimmed over. Make every word count.
✱ Cute stationary not necessary; make the words, not the aesthetics, define your pitch.
✱ Explain what you want to write about, how you will organize it (column it fits), who your source(s) will be, and some examples.
✱ Take a familiar concept and put a fresh spin on it. Find the editorial calendar and plan ahead.
✱ Departments have different editors— do your homework to find out who to pitch.
What about clips? Many magazines will ask for your clips. As a blogger or someone who may not yet have professional clippings from other publications, there are other assets you can talk about instead. No clipsneed not mean no assignments.
✱ Clips from your blog
✱ Your background. Are you a dog trainer? Interviewed them on your blog?Have a degree in English? The key is to establish yourself as an expert.
✱ Hobbies and personal expertise. Do you love dog shows? Involved in rescue? Have a special dog you helped to get a home? Pitch it.
✱ Good writers are not the experts on everything. As bloggers, we know this. We need to be able to access the experts and formulate an article. State your ability to contact experts and mention who in your pitch letter.
✱ Write what you know and be able to research what you don't!
✱ Let people know you are an expert. How? Write a press release and send to companies that you are an expert and available. Some PR companies pitch us and let us know they have an expert. Give us a sample and then contact info.
✱ Find experts by browsing your favorite magazines and getting the names in those articles.
✱ For books, look at the people they thank and try to contact them.
✱ Newspapers. Much of this applies to newspapers as well, op-ed to bigger papers and local ones.
A few books that helped me as I pursued my "traditional media" outlets: Dirty Little Secrets of Buzz by David Seaman, The New Rules of Marketing and PR by David Meerman Scott, and books by Penny Sansevieri.
Be able to sum up the angle of your pitch in one sentence. The pitch itself is longer. An angle is something you read and think "Oh, I never thought of it that way or heard of that before."
Be tenacious but not pushy and don't give up on your media pursuits. I continue to walk this path with you in getting recognized and with each television appearance, radio segment, guest blog and media event I engage in, I click my heels and remind myself that the dog world is my home.
Find things to do, places to see and activities Fido can engage in with the latest issue of FIDO Friendly magazine.

Call our subscription department at 888.881.5861 Monday through Friday 8 am to 5 pm PST and mention code DEXTER for 20% off your subscription or renewal.