By Tom Collins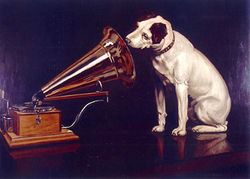 I first heard of Compfight.com while reading Seth Godin's post on "fair use" and copyright.
I found this photo of the original 1898 painting that inspired the iconic RCA trademark, "His Master's Voice," while doing a search for "pets" on Compfight.com. In the left sidebar of the site, you'll see links that provide a variety of ways to limit your results, including one labeled "Commercial" that should return only images you are free to use for commercial purposes.
You'll want to click on any of the images you're considering, to verify the source and copyright status. In this case, doing so took me to a Flickr page in Beverly & Pack's photostream, where I was rewarded with a couple of paragraphs explaining the history of the painting. The information also states that the painting is in the public domain.
But the photo itself carries a Creative Commons "By" license, which authorizes you to share, remix, and "make commercial use of the work."
Warning: You can get lost in the cuteness, with a search as broad as mine was — it returned over 26,000 images, even limited to commercial use! But browsing is half the fun for me. I thought I was just looking for a cute pet photo to use as an example and there on the first page of images, above the fold, was the famous picture above.