by: Carol Bryant
We're a 24/7/365 busy, active blog and community at BlogPaws. With the weekend here, now's a good time to catch up on what we dished all week long at BlogPaws.
Here's your weekend edition of BlogPaws Hits of the Week. Did you miss these headlines as they apply to pet bloggers, bloggers in general, microbloggers, and pet lovers:
Ten Social Media Tips You Might Be Missing
Being social, growing your fan base, and getting eyes on your content
is a shared goal for pet bloggers. t's a shared goal for most folks on
social media these days.
With any goal to be successful, a proper strategy needs to be in
place. You don't have to be everywhere, so pick one platform and manage
it well. With that, here are 10 social media tips you might be missing
out on. See how many apply to your social media strategy. If you don't
have a strategy, now's the time. Ten Social Media Tips You Might Be Missing
BlogPaws Community member, Kat Bengalcatdomination, wrote, "I am wondering what everyone considers correct blogger etiquette when it comes to blog awards.
I have always liked the cute little blog awards but I am surprised at
some of the award requirements. I don't want to sound ungrateful, so I
hope this does not come off that way. I appreciate anyone who visits my
blog and enjoys it."
Here's what our pet blogging community has to say about blog award etiquette.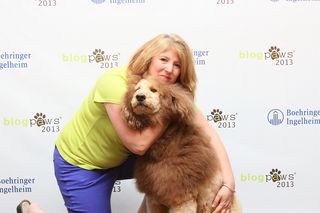 Pet Industry Leader Reveals Pet Blogger Forecast
The pet industry is ripe for disruption. Those words stopped me in my tracks and perhaps they
elicited the same reaction to you.
Just who is doing the disrupting, how does it apply to pet
bloggers, and are brands recognizing the impact we are making? Did
you know that there are more dogs in the US than there are children? How about
the fact that 14% of US dogs have a Facebook page? The pet market is one of the
most vibrant and steadily growing industries, and BlogPaws is on the cutting
edge of it all.
Here's what one pet industry leader has to say about pet blogging and the pet industry forecast

WIPIN Conference and Awards Show Featuring Yvonne DiVita
The WIPIN Conference and Awards Show is taking place in August in Portland, Oregon, and BlogPws will be represented. The WIPIN Conference will
provide the opportunity to: hear powerful keynote speakers; participate
in breakout sessions led by dynamic presenters; and ask questions during
a panel discussion with some of the most influential and savvy public
relations and marketing women serving the pet and veterinary industries
today.Yvonne DiVita, president of Windsor Media Enterprises, LLC & blogger at Lipsticking & Co-founder of BlogPaws, will present, "Smart Strategies for Business Growth."
Travel Safety Tips for Pets
In addition to making certain Fluffy and Fido are safety secured,
whether in a pet safety harness or in a crate, during a car trip here
are other travel safety tips to keep in mind: Travel Safety Tips for Pets
Okay gang, get ready for Senior Pet Month in August on BlogPaws and MANY announcements forthcoming about the 2014 BlogPaws Conference in Vegas, baby, Vegas! You are in, right?