Here are some of the presentations
given at the first BlogPaws conference
April 9-10, 2010, in Columbus, OH
(select topic/speaker from the playlist below):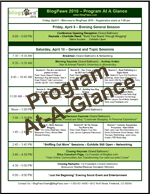 Download BlogPaws 2010
Program-At-A-Glance
Session Descriptions
& Panels Below
– Friday
– Saturday Morning
– Saturday Afternoon
– Saturday Evening

If you're asking yourself, "Why should I attend BlogPaws 2010?" we have your answer.
Jump Start Your Blog: BlogPaws will give new bloggers valuable information on how to get started, drive traffic to their blogs, monetize their blogs, use pet communities effectively, create content for a book, and more.

Learn Best Practices from the Front Lines: Experienced bloggers (and newbies, too!) will get a chance to hear from other seasoned bloggers and social media experts to learn more about what they're doing right and what they may be doing wrong. The sessions and networking will facilitate great conversations about tips and tricks of the trade that can help all of us more quickly and effectively reach our blogging goals.

Build Your Community: Blogging is about relationships; relationships with your readers, with other bloggers and for some, with your customers. BlogPaws is designed to bring together bloggers, online pet enthusiasts, pet brands and advocates for animal welfare to spark new opportunities for all of us. Relationships like these take months to build online. At BlogPaws, you'll have the opportunity to meet many like-minded people who will become new readers, advocates, friends, sponsors and cheerleaders for your efforts across the Web.
We think YOU need to be here if you have an interest in any of the above, but we also hope you will attend to help us create a powerful online voice for pet bloggers, pet communities, and pet brands, the better to serve our pets.
And, we hope you'll attend to become part of the BlogPaws' mission: to support pets in need. By being part of the BlogPaws community, you're adding your voice to the conversation. In the end, it's about saving lives and supporting our furry and feathered friends — because they need many voices to keep them happy, healthy and safe, in forever homes.

BlogPaws wants to build a strong bridge connecting pet people, pet brands, and pet bloggers – because we love pets. If you love pets, we encourage you to join us at the BlogPaws 2010 Conference in Columbus, OH on April 9th and 10th. Along with all the networking and education, there will be a lot of fun. We promise — it'll be PawSome!!!
Here's why …
1:00 – 6:00 PM
Arrival — Conference Registration — Welcome!
6:00 – 9:00 PM — Evening General Sessions
(Grand Ballroom)
– Conference Opening Reception
– Opening Keynote: Charlotte Reed,
"Building Your Brand Through Blogging"
– Pet Art Silent Auction
– Exhibits Open

7:30 – 8:30 AM
(Grand Ballroom)
Breakfast — Networking — Exhibits Open
8:30 – 9:30 AM
(Grand Ballroom)
– Morning Keynote: Andrea Arden,
Star of Animal Planet's Underdog to Wonderdog
– Exhibits Open
9:45 – 10:45 AM
(Session Rooms)
Educational Panel Discussions
Session A:
Do's And Don'ts of Product Reviews
Do you review products on your site? Are you interested in doing pet product reviews? Join this session for the basics as well as advanced insights into regulations and techniques you may not be aware of. In this session, you'll learn:
How to work with brands and PR firms to secure product review opportunities.
How to leverage product reviews to drive traffic to your site.
What you need to know about the Federal Trade Commission's guidelines for product reviews.
How to conduct reviews with honesty and integrity.
Panel:
Susan Getgood, Getgood Marketing & Blog With Integrity
Mary K. Engle, Federal Trade Commission
Jennifer Lilly, Mr. Tuck's Neighborhood

Session B:
Tips, Tricks and Habits for
Successful Search Engine Optimization
Search Engine Optimization (SEO) is a great way to build readership but best practices in SEO are constantly changing. If you'd like to leverage SEO as a regular part of your blogging strategy, this is a great session for you. Attendees will learn:
What is SEO, really? How does it work on a blog as opposed to a Web site?
Real, practical advice and tips you can use today (and every day!) from SEO experts.
Five key elements you should incorporate into every blog post.
Techniques used by the experts to drive more traffic and get your blog in the top Google search results for your desired keywords.
Panel:
Ellen Burgan, Drs. Foster and Smith
Stephan Spencer, Covario
Mary Archer, Strategic Ranking and Richmond Pets

Session C:
Book Publishing in a Digital World
Are you thinking of writing a book? (We know a lot of you are!) If so, this session is for you. Our experts and published authors will share with you:
An inside look at book publishing in today's world, from both experienced authors of traditionally published books and self-published books.
How to get started writing your book – tips on establishing your topic, defining your audience and maintaining your focus.
How to "package" your book and how to choose the right agent and/or publisher.
How to build a platform and an audience for your book, even before it's written!
Panel:
Nadine M. Rosin, The Healing Art of Pet Parenthood (book/blog)
Janiss Garza, Sparkle the Designer Cat (book/blog)
Edie Jarolim, Am I Boring My Dog? (book/blog)
Penny Sansevieri, Author Marketing Experts

11:00 AM – Noon
(Session Rooms)
Educational Panel Discussions
Session D:
Monetizing Your Blog through
Sponsorships and Advertising
Are you ready to make some money with your blog? At this session you'll learn how sponsorships and ad opportunities can help you monetize your blog. Our experts will tell you:
What brands want to see in a blog before they will consider sponsorship or advertising.
How to effectively market your blog to advertisers or sponsors.
What ad networks are and how they work.
The different options for monetizing your blog: from advertising to e-books to affiliate links and more.
Panel:
Anita Campbell, Small Business Trends
Christina Kwan, DogTime Media
Session E:
Building Your Blog Strategy
One of the best things about blogs is their fluid, organic and authentic nature. But like anything, blogs do best with a focus, purpose and plan. In this session, experienced bloggers and experts share insights for establishing a blog strategy and building a successful blog. Newbies and seasoned bloggers alike will benefit from this session where you'll learn:
How to find or refine your unique "voice."
Ideas and tools for creating and sharing compelling content.
How to set realistic blog goals, keep on track and exceed your objectives.
Tips and techniques for staying disciplined, engaged and most of all, motivated!
Panel:
Karen Nichols, Catster blog
Michele Hollow, Pet News and Views
Session F:
Leveraging Social Media: Using Today's Interactive Tools to Build a Better Blog
Blogging and other social media tools go paw-in-paw. This session covers best practices for creating a social media strategy for your personal or business blog. Participants will learn:
Techniques for bloggers to drive more traffic using social media tools like Facebook or Twitter.
How to build strong relationships and have fun – but not spend all your time online! (we know you have families, we have families, too!)
Which tools are best for you, and how to ramp up with the right ones.
How to leverage social bookmarking sites like Digg, Del.i.cious and Stumble Upon to drive more traffic to your blog.
Panel:
Kim Ratcliff, to Know Better blog
Robin Olson, Covered in Cat Hair blog
Jennifer Laycock, Social Media Strategist
Helin Jung, PeoplePets.com

Noon – 1:00 PM
(Grand Ballroom)
Lunch — Networking

1:00 – 1:30 PM
(Grand Ballroom)
– Afternoon Keynote: Dr. Larry McDaniel, DVM, PurinaCare Blogger

"Corporate Blogging:
A Personal Experience"
– Exhibits Open

1:45 – 2:45 PM
(Session Rooms)
Educational Panel Discussions
Session G:
Using Your Blog to Promote Your Biz
Many businesses these days incorporate blogs into their strategy to connect with customers. Business blogging has its own challenges and opportunities. This panel will feature corporate and small business bloggers who can shed light onto how to leverage a blog to engage customers and increase sales. In this session, you'll learn:
How to develop a strategy that will get you the most ROI (return on investment) from your blogging efforts.
What kind of time commitment you need to make your blog work for you.
How to connect with your audience in an authentic way (while still building your brand).
What to write, what NOT to write and how to stay inspired.
Panel:
Tom Collins, BlogPaws
Natalie Malaszenko, Petco
Michele Miller, Wonder Branding
Session H:
Be The Change You Want To See
Pet lovers are naturally passionate about helping homeless/abandoned pets. If you're wondering how you can make an impact in your own community, this session is for you. You'll learn:
Both universal and unique ideas on how to raise funds using your blog.
Inspiring stories of how ordinary people, like you, became animal rescue advocates and saved a lot of lives.
How to make a difference in your own backyard – where it's often needed most.
Panel:
Dorian Wagner, Your Daily Cute
Jessica Vogelsang, Pawcurious
Session I:
Contests, Sweepstakes, Promotions – Nuts & Bolts
Unlike product reviews, contests and sweepstakes and promotions require more thought, more attention, and give different results. If you are interested in creating these interactive experiences on your blog or Facebook page, this session is for you. Participants will learn:
Sweepstakes rules and experiences – it's not all about the prize; it's about a lot more than that!
How much time and effort really goes into offering a contest or sweepstakes.
How a big brand created a successful sweepstakes – from beginning to end.
How to use sweepstakes and contests to promote your cause, your purpose, and your blog.
Panel:
Jane Couto, MomGenerations.com
Donna DeClemente, Social Sweeps
Hollis Thomases, WebAd blog
Jenny Cisney, Kodak 1000 Words blog

2:45 – 3:45 PM
(Session Rooms & Exhibit Area)
Exhibits Open — Networking
"Sniffing Out More" Roundtable Sessions
The goal of these sessions is to enable BlogPaws attendees to self-organize small group sessions around a particular topic or expert they want to learn more about. It just isn't possible in a day and a half conference to cover every topic we'd all like to learn about. The session rooms will be available for these sessions, but space will be limited and on a first-come-first-served basis.
We suggest that attendees may want to connect and plan these sessions before the conference. Please contact us ([email protected]) with any questions, or to arrange for space.

3:45 – 4:30 PM
(Grand Ballroom)
– Closing Keynote: Elisa Camahort Page, Co-Founder of BlogHer.com

"How Online Communities
Are Transforming Our
(and our pets') Lives"
– Exhibits Open

4:30 – 5:00 PM
(Grand Ballroom)
– Closing Remarks: BlogPaws Co-Founders
– Announce Shelter/Rescue Donation Winners

6:00 – 9:00 PM
"Just the Beginning"
Evening Social Event & Entertainment