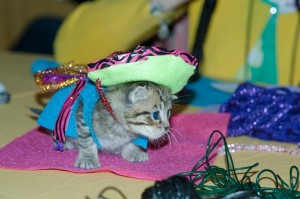 Image bybecca.com
June is Adopt-a-Cat month, celebrated by many organizations including BlogPaws. It's a good time to talk not only about visiting your local shelter and adding a cat (or two) to your family, but also about everything else cat. During the month of June we invite you to link up your posts about adoption, nutrition, adult cats, kittens, volunteering, cat facts, or anything else cat related that you would like to share.
A few facts about shelter cats
According the the ASPCA, approximately 37% of cats that enter shelters are adopted, 41% are euthanizes, and then less than 5% of cats who enter as a stray are returned to their owner.
Additionally, the average number of litters a fertile cat produces is one to two a year; the average number of kittens is four to six per litter. That adds up very quickly.
Black cats are the least likely to get adopted from a shelter.
Useful links for caring for your adopted cat
The benefits of becoming a cat parent
Petting cats lowers blood pressure, according to The Center For Disease Control.
In 2012, a study at the University of Minnesota Stroke Center found that cat owners were 40% less likely to have heart attacks than non-cat owners.
A cat's purr lowers stress.
June is about cats. About promoting their adoption and learning something new, whether that be something new about their nutritional needs, their health benefits, their bond with kids, or something else. BlogPaws looks forward to reading your posts and learning along with you.