Post by Director of Events & Programs,  Chloe DiVita
As pet lovers we all know how special our pets are. We never doubt they will make us smile or lift our spirits. We could go on and on about them for hours and hours, and often we do. Nature's Recipe® loves the bond we share and wants to highlight each one of them with pictures and stories. They have even thought about what our pets feel. What does our special bond with our pets look like and feel like from their point of view? A pet's eye view.
BlogPaws is partnering with Nature's Recipe to share these moments and these pictures for the month of February. We'll be sharing a blog hop where you can link up your #RecipeForMoments stories for a chance to win a first-of-its-kind Nature's Recipe lightweight collar camera for cats and dogs. We'll be giving away five cameras to five lucky entrants. Be on the lookout for the blog to go live on February 1, 2014, and check out some scrapbook photos already created by pet parents.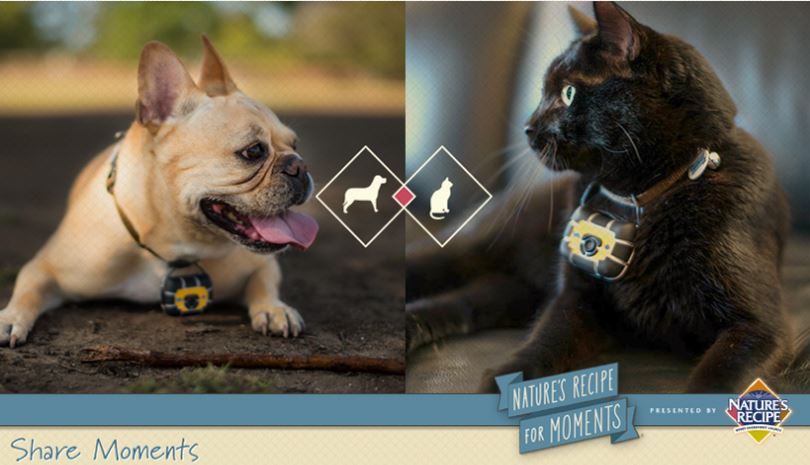 Every day I have special moments with Twiggy and Onxy. Twiggy, a prim and proper Greyhound, and Onyx, a goofy Pit Bull/Shih Tzu mix (yes, that makes him a Bull Shihz) are both tuned into me in ways that still surprise me. They thrive when they get to play outside. It's like their spirit ignites in the fresh air and playfulness of running around, and when their spirit ignites mine follows suit.
About a month ago, when we were having a rather warm December day in Colorado, I was having a particularly hard and stressful day. Twiggy and Onyx didn't seem to understand that I needed a break. I needed to sit on the couch and just zone out for a bit. Just forget about the world. Nope, they didn't care. It was perfect outside weather and that's where they wanted to be.
Reluctantly, and almost annoyed, I opened the door and stepped out onto the patio. They barely let me get the door open all the
way before they tore out so fast one would have thought there was a huge steak waiting for them. They ran this way and that way, jumping over each other and hiding behind the patio furniture. It was a day where I really didn't have to do much playing with them. I moseyed over to the ledge I like to sit on as they ran around me and tried to engage me in their play, but never letting my somber mood stop them from having their fun.
After I plopped down on the ledge and turned to watch them, they each started to run up to me, pause as they made eye contact, play bow and take off again. Over and over they did this, to me, to each other, back and forth and back and forth. After a few minutes of this I couldn't help but start to smile, and then to laugh, and they knew it was because of them. Somehow they knew their antics had done exactly what I really needed: made me stop and live in the moment. No stress. No anxiety. No worries. Just me and Twiggy and Onyx, playing and laughing. I only thought to snap a photo when it was all over and they seemed to be checking in to make sure they completed their mission. I imagine they each felt accomplished by tearing away my stress and replacing it with a smile, and I loved on them each for some time as a thank you. We were all happy again.
I hope to share more special moments with you during the Nature's Recipe #RecipeForMoments campaign, and I can't wait to read all of your special moments.